Welcome To Liverpool

Pier Head, Liverpool
Lifestyle Magazine 2016
Celebrities, fashion, news, Liverpool Lifestyle Awards, beauty, and much more in the award winning glossy magazine for Liverpool. lifestylemonthly.co.uk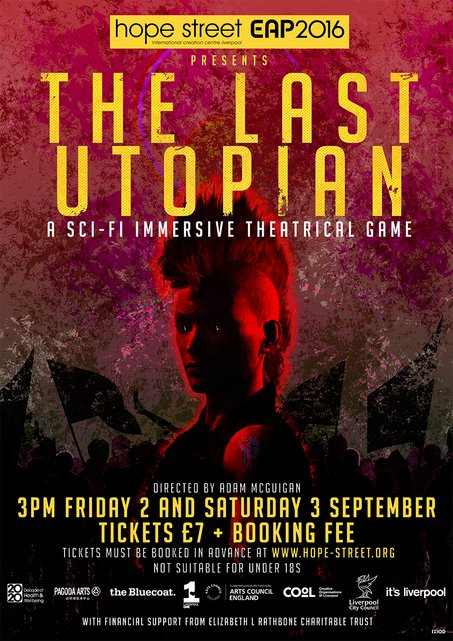 Hope Street Emerging Artists
The Last Utopian is a scifi immersive theatrical game set in a dystopian world which will take place on 2 & 3 September 2016 at several secret locations in Liverpool City Centre. This alternative reality live action game will invite 'players' (audience members taking part) into a futuristic dystopian world in which they have been given a secret mission. In this alternate dystopian reality, the UK has moved into a paranoid and isolated society but soon the audience/player will find out that an underground resistance movement is already taking place and they must join it to survive and fulfil their mission. Music will play a very important role in the game, holding the 'key' to a new world, a new 'utopia'.
Music will play a 'key' role in the game, with original tracks being created exclusively for The Last Utopian. The Emerging Artists will be working with some of the many Liverpool based talented musicians; from a beat boxer to a classical guitarist, the audience will enjoy live performances during the game.
This is the third show by this year's Hope Street Emerging Artists (EAP 2016), inspired by the current world political situation, and films like Blade Runner, the challenge will be to create an immersive theatre game across multiple venues.
For more information, visit hope-street.org
Time: 3pm (lasting approx until 6pm)
Venue: Various venues across the city centre. Secret starting point to be disclosed upon booking of ticket. Tickets: £7 plus booking fee.
Not suitable for under 18s
Tate Liverpool : Francis Bacon
Exhibition on until 18 September 2016
The Wind in the Willows
Sunday 21 August 2016
1pm, 4pm and 7pm - Sefton Park Palm House

Saturday 3 September 2016
11am, 3pm St James Church Hall, Woolton Village
Toad, Mole, Ratty and friends will be arriving at Sefton Park Palm House this Summer! The group that bought you last year's sell out show 'Alice' returns to the Palm House with the glorious family spectacular 'The Wind in the Willows'. This is a show for everyone as we meet all the favourite characters and follow their journey to save Toad and Toad Hall from the weasels. Tickets are available now through www.wegottickets.com. A limited number of tickets will also be available on the door for each performance. However, tickets are expected to sell out so please book early. See poster above for ticket info.
The World Heritage City of Liverpool
Located in the North West of England, Liverpool is reaching an exciting phase of development which is transforming the city skyline and Mersey waterfront. A city looking toward to its future, with many new venues including The Malmaison Hotel, The Museum of Liverpool, Liverpool ONE, Pier Head Canal and the magnificent Liverpool Echo Arena. Photos of Liverpool
What's On?
Most Viewed This Week
What's New?

St George's Hall

St George's Hall - 360 Photo

Antony Gormley Figures at Crosby Beach

Photo of The Edward Pavilion & Albert Dock Area
Liverpool Tourist Information
Tourist Information, Anchor Courtyard, Albert Dock L3 4BS
You will find the Albert Dock Visitor Centre in the Anchor Courtyard. Pick up a map and find out more information about our range of tourist attractions, destinations, restaurants and what's on, or ask the team to book your tickets. If you'd like to speak to them before your visit, give them a call on 0151 707 0729.