See What's On at Liverpool Philharmonic Hall
Hope Street, Liverpool L1 9BP
♫ Tickets from
liverpoolphil.com
♫
Map
Liverpool Philharmonic's What's On Guide, featuring contemporary and classical music, family events, films, comedy, talks, tours and more. ♫ View the
Sept - December 2018 What's On
The Capstone Theatre
Autumn Season October - December 2018
•
Autumn Brochure
pdf
•
thecapstonetheatre.com
The Capstone Theatre Shaw Street, Liverpool L6 1HP
Liverpool Jazz Club
📅
Wednesday 7 November 2018
Everyman Theatre (Bistro), Liverpool
An evening of live jazz music featuring our 6-piece band, trumpet/vocals from Tony Peers, jam session and free admission. Please reserve your table(s) at the Everyman box office: 0151 709 4776.
Trinity
📅
Friday 9 November 2018
West Kirby Art Centre, 29 Brookfield Gardens
Trinity: is an eclectic blend of stand-up comedy, musical comedy and live music with performances from Sam Freeman, Kat Molinari (comedian), and singer-songwriter Ellie Rose Smith hosted by Ash Preston.
Doors open 7.00, performance starts 7.30
Tickets £6
Sheelanagig - Foot Stomping Folk
📅
Friday 9 November 2018
The Music Room - Liverpool Philharmonic
'High octane stuff…Would liven any party and keep the floor full'
– fRoots
Sheelanagig for over a decade have brought their array of foot-stomping folk tunes to audiences across the globe. A quintet with a well-stocked armoury of stringed instruments – guitar, fiddle, double bass - added with the rhythmic energy of flute and drums and a bagful of joint-jumping tunes, these boys from the South-West England create a real dynamic which is inherent in both their furious dance medleys as well as their interestingly arranged original pieces.
Putting the groove into a selection of traditional and original European Folk music dating from the medieval times to present day, it's difficult – nay, impossible – for your limbs to remain stationary when you're within earshot of them in full flight. The fact that they often play with a knowing wink shouldn't obscure their impeccable technique, and outstanding musicianship that raises the roof in every place they play.
Music @ Gallery 1, Castle Park Arts Centre
📅
Sunday 18 November 2018
Castle Park Arts Centre, Frodsham WA6 6SE
Music @ Gallery 1 - Gonzalo Bergara Quintet's 'Django meets Piazzolla' European Tour
Doors open 7.30 pm - Starts 8 pm Tickets at the Arts Centre or ring 01928 735832 or 09714794039 £15 in advance, £18 on the night. Bar available.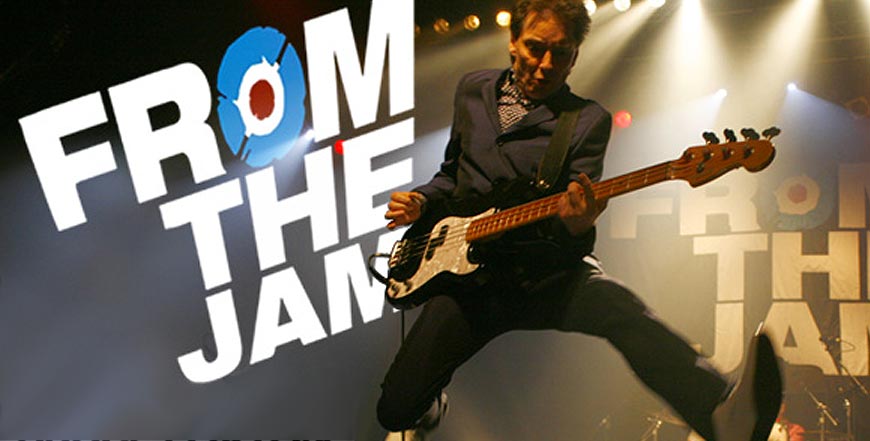 From The Jam - All Mod Cons 40th Anniversary
📅
Wednesday 5 - Thursday 6 December 2018
The Cavern Club, Liverpool
"Blown away by this band- you must see them if you can!"
- Jeremy Vine, BBC Radio 2
From the Jam is comprised of legendary former 'The Jam' bassist Bruce Foxton, vocalist & guitarist Russell Hastings, drummer Mike Randon, and Andy Fairclough on Hammond and piano. This Autumn the band will be celebrating the 40th Anniversary of The Jam's 3rd studio album, All Mod Cons, playing it in its entirety. As well as classics such as 'Down in The Tube Station at Midnight' and 'A Bomb in Wardour Street' the band are also excited about playing 'Billy Hunt', 'Mr Clean' and the 'The Butterfly Collector', which only featured on the US release of All Mod Cons originally.
Over the past 11 years From the Jam have toured relentlessly, having played almost 1000 headline shows in the UK since their inception in 2007. Throughout this time, they've gained a reputation for the kind of incendiary live performances that sealed the reputation of The Jam all those years ago, being described as "incredibly exciting" by the Daily Mirror and "sounding dynamic as ever" by the Daily Record.
"The energy in rehearsals is great and we're really looking forward to getting back on the road!" says Foxton.
"A sincere touch and lashings of fiery rock'n'roll"- Guitar and Bass
In 2007 Russell Hastings was fronting 'The Gift' (which featured Rick Buckler) when he was joined on stage by Bruce Foxton (who was touring with Casbah Club) for a 'one off' performance. This performance sparked the genesis of From The Jam, and an enduring partnership between Foxton & Hastings.
Off-stage Foxton and Hastings wrote the album, 'Back In The Room' released in 2012, which received critical acclaim and solidified Foxton & Hastings as an excellent and contemporary song writing duo. They then returned to the studio in 2016 to record and release 'Smash The Clock', which reached number 31 in the UK charts. The album also entered the independent album chart at number 4, whilst the vinyl edition entered the vinyl chart at number 7.
"From The Jam, best night out I have had in years all The Jam hits and more done to perfection what's not to love!?" - Alan McGee, Creation Management
On December 1st 2017, to celebrate 10 years since From The Jam formed , Bruce Foxton and Russell Hastings released From 'The Jam Live!', featuring songs performed at various venues across the UK.
Tickets
Switch on to Christmas
📅
Friday 7 December 2018
Venue: Philharmonic Hall, Hope Street, L1 9BP
Come and join the Liverpool Welsh Choral and get in the festive spirit as you 'Switch on to Christmas'.
Belvedere Academy Chamber Choir (Conductor: Matthew O'Keeffe) and the Northop Silver Band (Conductor: John Doyle) get in the mood and set the scene for a magical evening of Christmas music.
LWC Conductor Keith Orrell and Accompanist Stephen Hargreaves complete the ensemble.
Start time:- 7.30 pm.
Tickets:- £13 - £27 from the Philharmonic Box Office 0151 709 3789 and Mavis Owens 0151 652 6374 or via lwctickets@gmail.com