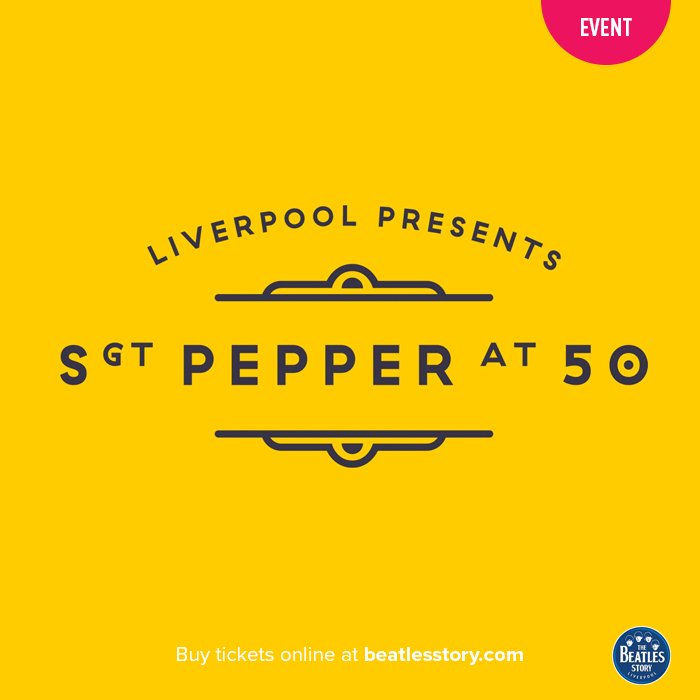 Sgt Pepper at 50: Beatles Ragafest
Sunday 11 June 2017
St George's Hall
Concerts: 8:30am (£10), 1pm (£16), 5:30pm (£20), 9:30pm (£16) - Food included in all ticket prices
Tickets available from:
www.ticketquarter.co.uk/Online/milap
To celebrate the 50th anniversary of one of The Beatles most iconic albums, Sgt Pepper's Lonely Hearts Club Band, Milapfest have teamed up with Liverpool City Council to rekindle and showcase the amazing creative and spiritual connection between The Beatles and India with a festival of music and culture with a special all-day event on Sunday 11th June 2017. Taking inspiration from the track Within You, Without You, Milapfest are taking over Liverpool's St George's Hall with four special concerts. Featuring some of the very best Indian classical artists and reflecting the changing mood of the day, each concert will be accompanied by a specially designed traditional Indian cuisine. Alongside the concerts is a free, all-day Indian Festival Village with food, arts and crafts, providing a unique musical exploration of East meets West, as seen in The Beatles track.
The Morning Ragafest & Great Indian Breakfast
08:30am, £10 (incl. breakfast)
Join world-renowned Sarod artist Pandit Ranajit Sengupta and Tabla maestro Kousic Sen on Tabla as they set the tone for a wonderful day ahead with the meditative, spiritual and energizing moods created by Hindustani Ragas. The concert will be accompanied by a taster of a typical Indian Breakfast.
The Afternoon Ragafest & South Indian Lunch
1pm, £16 (incl. lunch)
East meets West as an ensemble of Indian musicians led by violinist Jyotsna Srikanth perform alongside Swedish string quartet, Kristallkvartetten. This exploration of the six seasons of India will be accompanied by a traditional South Indian lunch.
The Evening Ragafest & North Indian Dinner
5:30pm, £10 (incl. dinner)
Grammy award winner, Pt. Vishwa Mohan Bhatt, alongside his son, Salil, will showcase the extraordinary slide guitar he created, the Mohan Veena. Joining them in their exploration of both contemporary and traditional music is renowned Tabla artist Ramkumar Misra. This concert is accompanied by a traditional North Indian dinner.
The Late Night Ragafest & Masal Chai, Kumbakonam Degree Coffee & nibbles
9:30pm, £16 (incl. food & drink)
This candlelit concert brings together Madras pianist Anil Srinivasa and Bansuri flautist Rekesh Chaurasia as they launch their new album, 'Melody on the Mersey'. They will be accompanied by percussionist Pirashanna Thevarajah and Tabla maestro Kousic Sen. Unwind and relax with masala chai, kumbakonam degree coffee and nibbles as they take you on a soulful musical journey.
www.sgtpepperat50.com
Sgt Pepper at 50: Indian Festival Village
Sunday 11 June 2017
St George's Hall
11:30-9pm
Free Entry
To celebrate the 50th anniversary of one of The Beatles most iconic albums, Sgt Pepper's Lonely Hearts Club Band, Milapfest will rekindle and showcase the amazing creative and spiritual connection between The Beatles and India with an Indian Festival Village, filled to the brim with musical, cultural and gastronomical delights.
The day-long celebration will kick off with an exciting display of Indian Drumming on the steps of St George's Hall (11:15am) befacore welcoming you into the Main Hall which will transport you to India. Bring all the family and explore the best India has to offer. Whether you want to get involved and try something new with one of our interactive workshops, taste some of the finest delicacies the country has to offer or listen to the amazing sounds that so influenced George Harrison so much, there is something for all generations.
Joining the festival village are popular names such as:
· Matta's International Foods
· LEAF Tea Shop & Bar
· Shared Earth
· Mayur Indian Restaurant
· PATAK's
· Rajah
Browse, try and take home:
· Traditional Arts & Crafts
· Handbags & Handicrafts
· Delicious Indian food
· Spices & culinary delights
· Music & DVDs
Live performances/workshops including:
· Bhangra dancing
· Magic Shows
· Classical/Contemporary Indian Music
· Children's Storytelling
· Folk Dance Workshops
· Bharatanatyam dancing
· Yoga/Meditation Sessions
· Informative talks from music experts
The Billy Joel Songbook
Friday 23 June 2017
Where: St Georges Hall, St George's Pl
Following on from his highly-acclaimed reunion concerts in the USA with Billy Joel's original touring band, Liverpool's St Georges Hall are delighted to bring audiences The Billy Joel Songbook performed by Elio Pace on Friday 23 June. The incredible musician delivers this sensational concert celebrating the phenomenal music of Billy Joel which has captivated audiences and is a night to remember for any Billy Joel fans.
Time: 7:30pm / Tickets: £24.75 (plus booking fee)
Purchase in person at TicketQuarter, Echo Arena Liverpool, Kings Dock, Liverpool, online at
ticketquarter.co.uk
or on 0844 800 0410.
★
St George's Hall - What's on guide April - June 2017
issuu.com
Artisans at St Georges Hall
Friday 11 - Sunday 13 August 2017
A wonderful opportunity awaits all the family to learn new skills, to feel inspired and treat themselves or a loved one to something very unique and special.
The three day festival at St Georges Hall will open on the eve of Friday 11th August and close on the eve of Sunday 13th August 2017.
Friday evening is an invitation for grown-ups.
Breaking free from your evening commute, make a date with family and friends to visit the Artisan Summer Night Market.
St George's Plateau will come alive with live music, street foods, licensed bar and mood lighting. Inside the Grand Hall discover a buzzing night market; an eclectic, magical and atmospheric shopping experience of the highest quality, the first of its kind and unmissable.
Open from 4pm
Saturday 12th and Sunday 13th August sees the Summer of Love celebrations continue with a family friendly festival vibe. Feel accomplished in the creative zone, take part in workshops, meet the free thinkers, innovators and inspired makers.
Art, fashion, jewellery, fused glass, homeware, ceramics, specialist plants – treat yourself to gifts that make you smile. There's no need to hurry, marvel at the incredible architecture, relax a while, feast on world cuisine and soak up the atmosphere.
Children will be entertained & delighted & adults left happy & energised, for this is a weekend to remember ...a weekend of indulgence celebrating the awesome city of Liverpool.
Saturday & Sunday 11am - 6pm
St Georges Hall is a short stroll from Liverpool Lime Street with excellent transport links.
Adult tickets - £2.50 Children under 14 free
www.theartisannetwork.co.uk
Trial by Jury
Wednesday 16 - Friday 18 August 2017
St George's Hall
Following on from the massive success of its Launch, LoveHistory will return in August with another compelling Trial by Jury event, taking immersive theatre to a new level. If you ever fancied yourself in a courtroom drama then this is for you! Think Twelve Angry Men where we see each jury member debate the fate of the accused in a sensational and classic courtroom drama or Time to Kill when the young and determined lawyer swings a verdict of guilty to not guilty through his powerful and heartfelt summation. This opportunity offers each participant the opportunity to do just that!
You will initially be witness to a historical Crime of Murder. The full details of the crime will be revealed through compelling performances, re-enactments and guided by our very own "Sherlock Holmes" style detective who will piece together the full story and gather the evidence for the trial. After the harrowing case is revealed, evidence is gathered and the prosecution and the defence will make their case- it is then that the audience will become the jury!
They will be taken to a room to debate, deliberate, and ultimately decide the fate of the accused! Will it be the Gallows? A lifetime of hard labour or will it be mercy? The punishments will be relative to the historical period of the crime. You Decide!
Once the judge has passed sentence the real-life sentence will be revealed. Did you change the course of history or did you conform to the status quo?
The crime will not be revealed until the time of performance and you never know what historical period you will get.
This event is back by popular demand! Not to be missed!
Tickets