St Helens Theatre Royal
★
sthelenstheatreroyal.com
★
2018 Brochure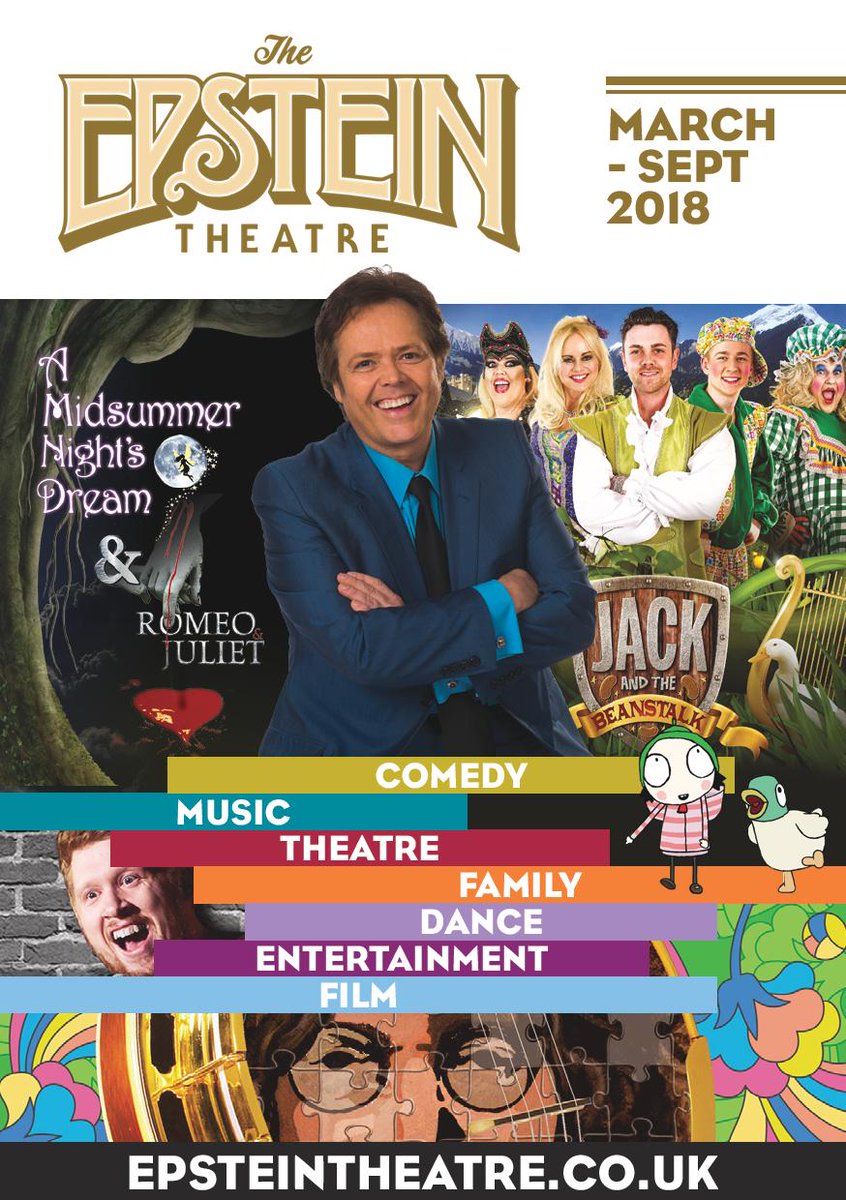 The Epstein
★ To book tickets please visit
epsteinliverpool.co.uk
★
March to Sept Brochure
The Ragged Trousered Philanthropists
📅
Friday 24 & Saturday 25 August 2018
THE CASA THEATRE BAR 29 Hope Street Liverpool
Robert Tressell's classic work follows the fortunes of a group of painters and decorators and their families as they struggle to survive against exploitative employers, unemployment, debt and abject poverty. Where the only safety nets are charity, the workhouse, and the grave. George Orwell called it, 'a wonderful work'.
More info:
www.casatheatre.co.uk
Deaf School
📅
Friday 21 - Saturday 22 September 2018
Liverpool Everyman Theatre
One of the most influential bands in Liverpool's musical history, Deaf School, return to Hope Street 45years after the band formed.
In an Everyman transformed with cabaret style stage seating, the band take to the new Everyman stage for the first time to perform new material from their 2017 album Let's Do This Again Next Week plus old favourites including the legendary What a Way to End it All.
Formed at Liverpool College of Art in 1973, Deaf School won the Melody Maker competition in 1975, recorded three albums for Warner Brothers, three John Peel sessions and toured extensively in the UK and America until disbanding in 1978. Since reforming in the 2000's the band have proved what a great live act they still are.
everymanplayhouse.com
SKIN
📅
Friday 21 September 2018
Unity Theatre, Liverpool
This is not my body. This is not my body. This is not my body.
After the sell-out international tour of Smother, 201's award-winning hip-hop theatre returns with SKIN: a boy's intimate journey of gender transition to discover a body that feels like home.
Fusing urban and contemporary styles with an original score, choreographer Andrea Walker directs a cast of 7 dancers in a fast paced, emotionally driven story of family, identity and belonging.
Tickets
★★★★★
"201 have created a masterpiece of human sensitivity"
- EdFringe Review
★★★★★
"Thrilling...Thought provoking"
- The Wee Review
★★★★★
"Beautiful...Uplifting"
- Voice Mag UK
★★★★
"Packs an emotional punch, steering Hip Hop into fresh territory"
- The Times
The Lovely Bones
📅
25 September - 6 October 2018
Liverpool Everyman Theatre
The stage premiere of the world-famous novel
Susie Salmon is just like any other young girl. She wants to be beautiful, adores her charm bracelet and has a crush on a boy from school. There's one big difference though – Susie is dead.
Now she can only observe while her family manage their grief in their different ways. Her father, Jack is obsessed with identifying the killer. Her mother, Abigail is desperate to create a brighter future. And her sister, Lindsay is discovering the opposite sex with experiences that Susie will never know. Susie is desperate to help them and there might be a way of reaching them…
Alice Sebold's novel The Lovely Bones is a unique coming-of-age tale that captured the hearts of readers throughout the world. Award-winning playwright Bryony Lavery has adapted it for this uplifting play about life after loss.
A Birmingham Repertory Theatre, Royal & Derngate, Northampton and Northern Stage co-production in association with Liverpool Everyman & Playhouse.
everymanplayhouse.com
FUP
Tuesday 9 - Saturday 13 October 2018
Liverpool Everyman Theatre
The Santee family are unconventional, to say the least.
100-year-old Grandaddy Jake and his enormous grandson Tiny live life on the fringes, drinking whisky, building fences, boasting of immortality. But then, Fup arrives – an ass-kicking, web-footed, feathery sonofagun. See, Fup is a duck. A very big duck. A very big duck indeed...And she is going to change their world forever.
FUP is a big-hearted, uproarious modern fable about family, love and nature set in a weird and wild Cornwall.
Featuring live, foot-stomping music, quacking puppetry and Kneehigh's infamous eccentricity and charm, FUP is a story like no other.
Presented by Kneehigh and o-region
Photo: Steve Tanner
Tickets
The Unreturning
Tuesday 16 - Saturday 20 October 2018
Liverpool Everyman Theatre
A new play by Anna Jordan
I want to return to my home.
A British Northern Coastal town. Three young men are coming home from war. Their stories, set at different times over the last 100 years, are beautifully interwoven in this compelling new play by Anna Jordan (Yen – Royal Court Theatre, Bruntwood Prize for Playwriting 2013).
Directed by Neil Bettles (Associate Director of Frantic Assembly) and featuring Frantic's celebrated physicality, The Unreturning explores the profound effect that war has on young lives, and asks - what does coming home really mean? What is home? And when experience has shattered you into a million pieces, will home help to put you together again, or treat you as an ugly truth it does not want to confront?
A Frantic Assembly and Theatre Royal Plymouth Production
Tickets
Alan Bennett's The Habit of Art
📅
Tuesday 23 - Saturday 27 October 2018
Liverpool Playhouse Theatre
Alan Bennett is one our greatest and most celebrated playwrights, with a cavalcade of stage and screen blockbusters including The History Boys, The Madness of King George and Talking Heads. He is applauded as a genius for his sharp character observations and treasured for the way he beautifully balances wit, wistfulness and compassion.
In The Habit of Art, Bennet gives us a play about a meeting between the poet WH Auden and the composer Benjamin Britten. Exploring friendship, rivalry and heartache this multi layered masterpiece examines the joy, pain and emotional cost of creativity.
This production directed by Philip Franks marks the first ever revival of the play and stars the Olivier Award winning Matthew Kelly (Twelfth Night at the Everyman), David Yelland (Chariots of Fire and The Crown) and Veronica Roberts (Peak Practice and Tenko).
Tickets
David O'Doherty: You Have To Laugh
Wednesday 24 October 2018
Liverpool Everyman Theatre
Unhook your mindbras. David O'Doherty is back on tour with a brand-new show made up of talking and songs played on a crappy keyboard from 1986. As seen on BBC2's Live At The Apollo and Channel 4's 8 Out Of 10 Cats Does Countdown.
davidodoherty.com
LEAP 2018
Producers MDI celebrate their milestone 25th anniversary this year, and their vision is to make LEAP 2018 the biggest festival to date.
LEAP is one of the UK's most anticipated dance festivals, and audiences of more than 2,500 are expected.
The 2018 event takes place between
2 - 12 November 2018
, with most of the activity taking place at Liverpool Hope University's Creative Campus.
The festival theme is Suffrage, in a tribute to the Suffragette Movement celebrating 100 years since some women were first given the right to vote. In celebration of this, there is a real female focus in each dance performance – all of which are new shows to Liverpool.
Frankenstein: How to Make a Monster
📅
Friday 9 - Saturday 10 November 2018
Liverpool Everyman Theatre
A mash-up of creative urban beats with raw rhythmic storytelling
Frankenstein is a brand new gig-theatre production by BAC Beatbox Academy, inspired by the original monstrous tale of power and persecution.
Using nothing but their mouths and a microphone, this talented and dynamic vocal collective present an electrifying poetic and political live concert of song, soundscape, improvised tracks and battles – exploring the idea of what makes a modern monster.
A BAC Beatbox Academy and Battersea Arts Centre Production
Supported by PRS Foundation's The Open Fund.
Mark Kermode: How Does It Feel?
📅
Tuesday 13 November 2018
Liverpool Playhouse Theatre
A Life of Musical Misadventures
Mark Kermode recounts his utterly foolhardy attempts to fulfil his dreams of becoming a pop star - from building an electric guitar from scratch while at school, to playing the tea chest bass on the kids TV show Utterly Brilliant, and becoming the musical director of a major TV show - all without ever learning to read music. This will be a hilarious evening in which the film critic recalls falling in love with Slade as a teenager, and recording an album at Sun Studio as an ageing old ted. Warning: there may be musical interludes. Or not.
Mark will be signing copies of his book after the show.
Tickets
Everyman Rock 'n' Roll panto The Snow Queen
📅
24 November 2018 - 19 January 2019
Liverpool Everyman Theatre
Here's a freezin' to be cheerful...
Regular writers Sarah A Nixon and Mark Chatterton unite with musical director Greg Last to bring the usual music and mayhem to this chilly tale. Our notorious dame Francis Tucker and master of mischief Adam Keast will bring audiences to their feet to dance, cheer and avoid a soaking.
Unlike any other panto in the city, our multi-talented cast sing, dance, entertain and play music live on stage, making sure The Snow Queen is as cool as can be.
The Snow Queen starts on Saturday 24 November and runs until Saturday 19 January, with tickets priced from £15 to £35. We encourage you to book early to secure the best seats at the best prices.
★★★★★
"If you've never been to an Everyman panto then you don't know what you're missing"
Good News Liverpool
everymanplayhouse.com
A Christmas Carol
📅
8 December 2018 - 12 January 2019
Liverpool Playhouse Theatre
Put on your best Victorian bib-and-tucker and hold on to your stovepipe hat as the Ghosts of Christmas Past, Present and Future whisk us on a brilliantly funny flight of theatrical fancy.
Brought splendidly to life in the inventive, adventurous style of Baskerville and The 39 Steps, this new adaptation of A Christmas Carol is packed with thrilling, fast-paced fun and madcap delight.
Those purveyors of playfulness and physical comedy, Spymonkey, present a festive treat for all, guaranteed to be exquisitely silly, with music, merriment and plenty of heart.
Presented by Liverpool Everyman & Playhouse and Spymonkey
Photo by John Hunter for RULER | Illustrations by Chris Riddell
everymanplayhouse.com