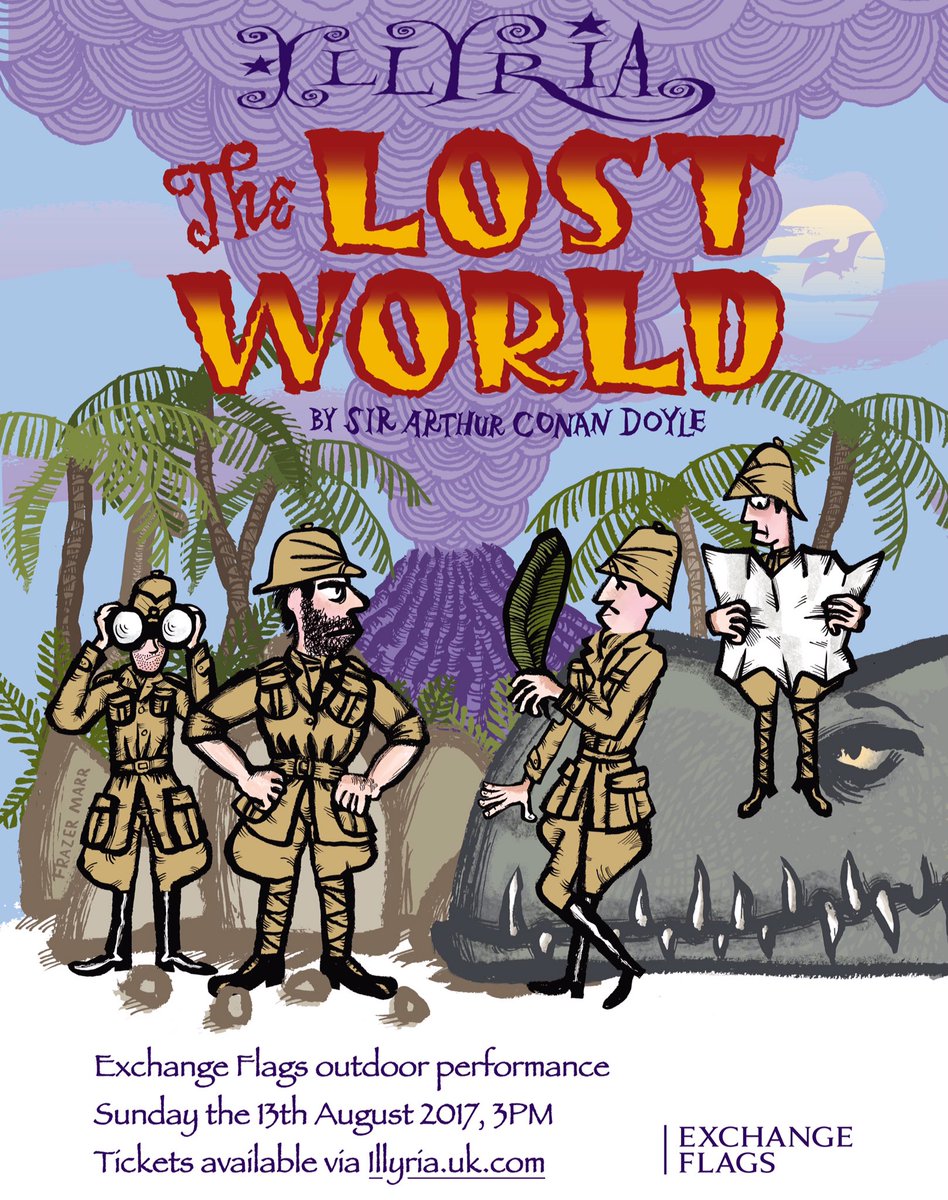 The Lost World, Open-Air Performance With Illyria
Sunday 13 August 2017
Where: Exchange Flags
We have some monster visitors making a stop at the Flags, Sunday the 13th of August for Illyria's open-air performance of Arthur Conan Doyle's classic, "The Lost World"!
Four intrepid explorers, led by Professor Challenger, travel to an uncharted plateau in South America following a few dodgy directions found in a sketch book. They discover flora and fauna beyond their wildest dreams, become involved in tribal warfare and encounter terrifying dinosaurs previously believed to be extinct! But when their camera is destroyed in an accident, what can they do to prove that these creatures actually exist? Unless, of course they manage bring live specimens back to London… What could possibly go wrong?
3:00PM Sunday 13th August
1 Hour 50 Minutes including a 20 Minute interval.
£10 for Adults / £6 for Children, Students & 60+
£28 for 2 Adults and 2 Children
Get your tickets here -
Tickets
The Ragged Trousered Philanthropists
Friday 25 - Saturday 26 August 2017
Venue: THE BLACK-E 1 Great George Street, Liverpool
A stage adaptation of Robert Tressell's classic novel that follows the fortunes of a group of painters and decorators and their families in Hastings 'Mugsborough' in 1911, as they struggle to survive against exploitative employers, unemployment, debt and abject poverty. Where the only safety nets are charity, the workhouse and the grave.
Jimmy Carr: Best of, Ultimate Gold, Greatest Hits Tour
Saturday 9th September 2017
Snow White and the Seven Dwarfs
Sat 2 Dec 2017 - Sun 7 January 2018
Book in person at the Theatre Royal Box Office Corporation Street, St. Helens, Merseyside WA10 1LQ (Mon – Sat 10am – 5pm).
Or
www.sthelenstheatreroyal.com
Box Office: 01744 756 000
Who's Afraid Of Virginia Woolf?
Thursday 28 - Friday 29 September 2017
The Brindley Theatre
A First For The Brindley and Northwest Group
Plays are often described as being 'iconic', and none fits that description better than Edward Albee's 'Who's Afraid of Virginia Woolf?' which is due to be performed at the Brindley Theatre, Runcorn in September.
This ground-breaking work was adapted for the big screen in 1966, starring Richard Burton and Elizabeth Taylor, subsequently winning Taylor the Oscar for Best Actress and Sandy Dennis for Best Supporting Actress.
Following on from their sell-out performance of 'Blithe Spirit', Armchair Theatre return with Albee's play, which is currently enjoying an extremely successful revival in London's West End starring Imelda Staunton and Conleth Hill.
"We are extremely lucky to have secured the Rights for this play,"
said Phillip Wade, co-founder of Armchair Theatre.
"It really is a fantastic script – audiences are in for a real treat as they are taken on a rollercoaster ride of emotions. If you like drama, intrigue and a 'twist in the tale' then this is definitely for you!"
Tickets
Flashdance The Musical
16 - 21 Oct 2017
Liverpool Empire Theatre
Dance like you've never danced before with Flashdance The Musical! Flashdance The Musical tells the inspiring and unforgettable story of 18 year old Alex, a welder by day and 'flashdancer' by night, who dreams of going to the prestigious Shipley Dance Academy and becoming a professional dancer. When a romance complicates her ambitions, she harnesses it to drive her dream. This inspiring musical features an iconic score including the smash hit Maniac, Manhunt, Gloria, I Love Rock & Roll and the sensational title track Flashdance - What a Feeling.
Liverpool Empire Theatre, Lime Street, Liverpool L1 1JE
Theatre - War Horse is coming to Liverpool
Starts 15 November 2017
Following 8 record-record breaking years in London's West End and having played in 11 countries around the world to over 7 million people, the National Theatre's acclaimed play War Horse is coming to Liverpool for the very first time.
Based on the beloved novel by Michael Morpurgo, this powerfully moving and imaginative drama features astonishing life-sized horses by South Africa's Handspring Puppet Company, who bring breathing, galloping, charging horses to thrilling life on stage.
The Everyman Rock n Roll Panto
The Little Mermaid
Sat 25 Nov 2017 - Sat 20 Jan 2018
The Everyman Rock 'n' Roll panto is the plaice to be this Christmas as The Little Mermaid swims into town. Regular writers Sarah A Nixon and Mark Chatterton have adapted the well-known tail that never flounders... With a live band, plenty of laughs and more than a few surprises The Little Mermaid is the perfect festive treat. Among the cast will be notorious dame Francis Tucker and master of mischief Adam Keast, who will once again bring the audience to their feet to dance and cheer or avoid a soaking. Unlike any other panto in the city, our multi-talented cast sing, dance, entertain, play music live and are sure to make it shrimply the best for all ages.
www.everymanplayhouse.com/
Christmas Panto - Snow White and the Seven Dwarfs
2 December 2017 - 7 January 2018
St Helens Theatre Royal
Wild at Heart and Coronation Street actress Lucy-Jo Hudson will lead the all-star cast of its Christmas pantomime Snow White and the Seven Dwarfs!
Fresh from competing in the ITV show Dance Dance Dance where she reached the final, Lucy-Jo will no doubt bring her fancy footwork to the stage at St Helens Theatre Royal as she plays the leading role of Snow White in the Christmas pantomime.
Lucy-Jo said:
"I'm so excited to be a part of St Helens Theatre Royal Snow White production this Christmas. I've rediscovered my love for being on stage from performing in Dance Dance Dance and I know my little girl will absolutely love watching mummy play Snow White in panto!"
So be sure to book early and enjoy one the world's best fairy tale classics this festive season.
Book in person at the Theatre Royal Box Office, Corporation Street, St. Helens, Merseyside WA10 1LQ (Mon-Sat 10am-5pm)
www.sthelenstheatreroyal.com
Peter Pan - The Epstein Theatre
Friday 8 December 2017 - Sunday 7 January 2018
Go on a high flying adventure to Neverland this Christmas.. J.M Barrie's classic tale Peter Pan, in another sensational Panto extravaganza.
The Epstein Theatre, 85 Hanover Street, Liverpool L1 3DZ
Tickets at
www.epsteinliverpool.co.uk
Panto: Sleeping Beauty - The Brindley
16 December 2017 - 14 January 2018
Our annual festive Pantomime, full of spectacular scenery, dazzling costumes, hilarious jokes, singlalong songs and fun for all the family!
The Brindley, High Street, Runcorn, Cheshire, WA7 1BG
Cheshire's Award Winning Theatre and Arts Centre.
Book online at :
thebrindley.org.uk
Take That Presents - The Band
23 January - 3 February 2018
Liverpool Empire Theatre
The Band is a new musical comedy about what it's like to grow up with a boyband. Written by Olivier Award-winning writer Tim Firth and the music of Take That, it stars the winning band from the BBC One television show Let it Shine.