St Helens Theatre Royal
Champions of Rock on Thursday 17 May promises two storming hours of hits from the legendary band, Queen, in one amazing rock spectacle.
Meanwhile Strictly professionals Ian Waite and Ote Mabuse are inviting people to 'An Audience With' on Friday 18 May. Expect a mix of Latin and Ballroom, transporting audiences away to a place of wonderful moments with fun-filled entertainment, along with a close-up history of all things related to their life.
There's a chance to Sing-a-Long to Beauty & The Beast when Singalonga Productions invites audiences to 'be our guest' at a special screening of the live action remake of the Disney film – rated PG – on Saturday 19 May. The movie stars Emma Watson as Belle and Dan Stevens as the Beast in this tale as old as time.
Multi-hit making group The Carpenters are remembered in We've Only Just Begun on Thursday 24 May. Toni Lee becomes Karen Carpenter and sings more than 20 classics including Close to You, We've Only Just Begun, Top of the World, Please Mr Postman, Only Yesterday and Solitaire.
Music fans are in for a treat again on Friday 25 May with the arrival of Let's Hang On. The world's first and longest-running tribute to the music of the legendary Frankie Valli & The Four Seasons is currently celebrating 10 years at the top.
Liverpool-born Ronald Wycherley is remembered in the Billy Fury Years, with Michael King stepping in to the shoes of one of the best-selling recording artists of the 1960s who spent a remarkable 332 weeks in the British charts. The show is on Saturday 26 May.
Finally, dark comedy is the order of the day in The Woman Who Cooked Her Husband, penned by Debbie Issit, writer of the hugely popular feature film Nativity. The production, on Thursday 31 May, contains adult topics and some strong language.
★
sthelenstheatreroyal.com
★
brochure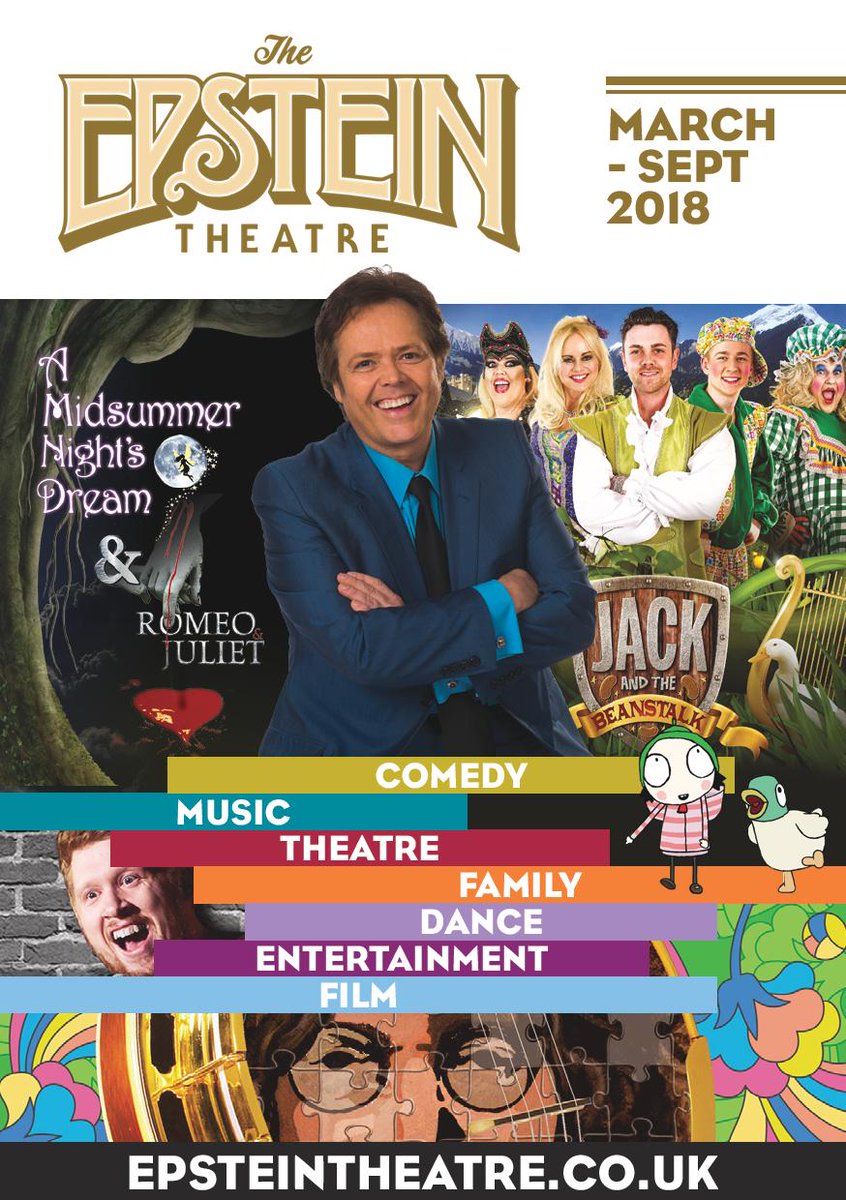 The Epstein June 2018
Marian Keyes: Talking Books, Talking Life, Just Talking…
Date: Tues 5 June 2018
Time: 7.30pm Tickets: £18
Red Skies: Stories from the Liverpool Blitz
Date: Thurs 7 – Sun 10 June
Time: 8pm (5pm Sun 10 June)
Tickets: Standard £17 Conc £15
Tim Key: Megadate
Date: Mon 11 June
Time: 8pm Tickets: £17
The Mersey Beatles: The Beatles '68 A Year Of Revolution
Date: Fri 15 June
Time: 8pm Tickets: £20
Live at Hot Water: Special
Date: Sat 16 June
Time: 8pm Tickets: £18
Tread End of Year Showcase
Date: Sun 17 June
Time: 6pm Tickets: £15
Liverpool Theatre School Presents Wind In The Willows
Date: Thurs 21 June
Time: 2.30pm & 7pm Tickets: £11
Genesis Connected
Date: Fri 22 June
Time: 8pm Tickets: £18
Jive Talkin' Perform The Bee Gees
Date: Sat 23 June
Time: 7.30pm Tickets: Standard £22.50 Conc £19.50
CCSW – One Night Only
Date: Wed 27 June
Time: 7pm Tickets: Standard £7 Family £22
Iconic: A Brief History of Drag
Date: Fri 29 June
Time: 8pm Tickets: £18
★ To book tickets please visit
epsteinliverpool.co.uk
★
March to Sept Brochure
Giovanni Pernice - Born to Win
Sunday 1 July 2018
St Helens Theatre Royal
'Strictly Come Dancing' FINALIST, Giovanni Pernice, returns to the stage with a bang in his brand new UK and Ireland tour 'BORN TO WIN'.
After the huge success of 'Dance is Life' in 2017, Giovanni is once again set to get your hearts beating a little faster, showcasing a story of love and passion, with even more heat, even more energy, and even more drama than ever before!
Returning to join Giovanni are Luba Mushtuk, dancer and assistant choreographer on 'Strictly Come Dancing', as his gorgeous leading lady, along with 'Dancing with the Stars Ireland' professionals Giulia Dotta, Kai Widdrington, Emily Barker, and Curtis Pritchard.
The show also welcomes the fantastic Stephen Vincent and Kylee Brown from the international 'Burn the Floor' tour.
Get ready for glitzy costumes and spectacular routines to dances like the Paso Doble, the Argentine Tango, the Rumba, the Viennese Waltz, and not forgetting the Jive, to name just a few!
Choreographed by 'Strictly Come Dancing's' creative director, Jason Gilkison, and produced by Strictly Theatre Co.
DON'T MISS the show everyone will be talking about in 2018!!
***** "Not just smouldering... Absolutely scorching." *
***** "Giovanni's dancers are as good as any you will see on the television show." *
*Reviews of 2017 Dance Is Life
Date: 1st July 2018
Time: 19:30 - 21:30
Tickets: from £28, concessions from £26, VIP Meet and Greet £51
Box office: 01744 756 000
Website:
www.sthelenstheatreroyal.com
The Ragged Trousered Philanthropists
Friday 24 & Saturday 25 August 2018
THE CASA THEATRE BAR 29 Hope Street Liverpool
Robert Tressell's classic work follows the fortunes of a group of painters and decorators and their families as they struggle to survive against exploitative employers, unemployment, debt and abject poverty. Where the only safety nets are charity, the workhouse, and the grave. George Orwell called it, 'a wonderful work'.
More info: www.casatheatre.co.uk
Deaf School
Friday 21 - Saturday 22 September 2018
Liverpool Everyman Theatre
One of the most influential bands in Liverpool's musical history, Deaf School, return to Hope Street 45years after the band formed.
In an Everyman transformed with cabaret style stage seating, the band take to the new Everyman stage for the first time to perform new material from their 2017 album Let's Do This Again Next Week plus old favourites including the legendary What a Way to End it All.
Formed at Liverpool College of Art in 1973, Deaf School won the Melody Maker competition in 1975, recorded three albums for Warner Brothers, three John Peel sessions and toured extensively in the UK and America until disbanding in 1978. Since reforming in the 2000's the band have proved what a great live act they still are.
everymanplayhouse.com
The Lovely Bones
📅
25 September - 6 October 2018
Liverpool Everyman Theatre
The stage premiere of the world-famous novel
Susie Salmon is just like any other young girl. She wants to be beautiful, adores her charm bracelet and has a crush on a boy from school. There's one big difference though – Susie is dead.
Now she can only observe while her family manage their grief in their different ways. Her father, Jack is obsessed with identifying the killer. Her mother, Abigail is desperate to create a brighter future. And her sister, Lindsay is discovering the opposite sex with experiences that Susie will never know. Susie is desperate to help them and there might be a way of reaching them…
Alice Sebold's novel The Lovely Bones is a unique coming-of-age tale that captured the hearts of readers throughout the world. Award-winning playwright Bryony Lavery has adapted it for this uplifting play about life after loss.
A Birmingham Repertory Theatre, Royal & Derngate, Northampton and Northern Stage co-production in association with Liverpool Everyman & Playhouse.
everymanplayhouse.com
FUP
Tuesday 9 - Saturday 13 October 2018
Liverpool Everyman Theatre
The Santee family are unconventional, to say the least.
100-year-old Grandaddy Jake and his enormous grandson Tiny live life on the fringes, drinking whisky, building fences, boasting of immortality. But then, Fup arrives – an ass-kicking, web-footed, feathery sonofagun. See, Fup is a duck. A very big duck. A very big duck indeed...And she is going to change their world forever.
FUP is a big-hearted, uproarious modern fable about family, love and nature set in a weird and wild Cornwall.
Featuring live, foot-stomping music, quacking puppetry and Kneehigh's infamous eccentricity and charm, FUP is a story like no other.
Presented by Kneehigh and o-region
Photo: Steve Tanner
Tickets
The Unreturning
Tuesday 16 - Saturday 20 October 2018
Liverpool Everyman Theatre
A new play by Anna Jordan
I want to return to my home.
A British Northern Coastal town. Three young men are coming home from war. Their stories, set at different times over the last 100 years, are beautifully interwoven in this compelling new play by Anna Jordan (Yen – Royal Court Theatre, Bruntwood Prize for Playwriting 2013).
Directed by Neil Bettles (Associate Director of Frantic Assembly) and featuring Frantic's celebrated physicality, The Unreturning explores the profound effect that war has on young lives, and asks - what does coming home really mean? What is home? And when experience has shattered you into a million pieces, will home help to put you together again, or treat you as an ugly truth it does not want to confront?
A Frantic Assembly and Theatre Royal Plymouth Production
Tickets
David O'Doherty: You Have To Laugh
Wednesday 24 October 2018
Liverpool Everyman Theatre
Unhook your mindbras. David O'Doherty is back on tour with a brand-new show made up of talking and songs played on a crappy keyboard from 1986. As seen on BBC2's Live At The Apollo and Channel 4's 8 Out Of 10 Cats Does Countdown.
davidodoherty.com
Everyman Rock 'n' Roll panto The Snow Queen
📅
24 November 2018 - 19 January 2019
Liverpool Everyman Theatre
Here's a freezin' to be cheerful...
Regular writers Sarah A Nixon and Mark Chatterton unite with musical director Greg Last to bring the usual music and mayhem to this chilly tale. Our notorious dame Francis Tucker and master of mischief Adam Keast will bring audiences to their feet to dance, cheer and avoid a soaking.
Unlike any other panto in the city, our multi-talented cast sing, dance, entertain and play music live on stage, making sure The Snow Queen is as cool as can be.
The Snow Queen starts on Saturday 24 November and runs until Saturday 19 January, with tickets priced from £15 to £35. We encourage you to book early to secure the best seats at the best prices.
★★★★★
"If you've never been to an Everyman panto then you don't know what you're missing"
Good News Liverpool
everymanplayhouse.com
A Christmas Carol
📅
8 December 2018 - 12 January 2019
Liverpool Playhouse Theatre
Put on your best Victorian bib-and-tucker and hold on to your stovepipe hat as the Ghosts of Christmas Past, Present and Future whisk us on a brilliantly funny flight of theatrical fancy.
Brought splendidly to life in the inventive, adventurous style of Baskerville and The 39 Steps, this new adaptation of A Christmas Carol is packed with thrilling, fast-paced fun and madcap delight.
Those purveyors of playfulness and physical comedy, Spymonkey, present a festive treat for all, guaranteed to be exquisitely silly, with music, merriment and plenty of heart.
Presented by Liverpool Everyman & Playhouse and Spymonkey
Photo by John Hunter for RULER | Illustrations by Chris Riddell
everymanplayhouse.com