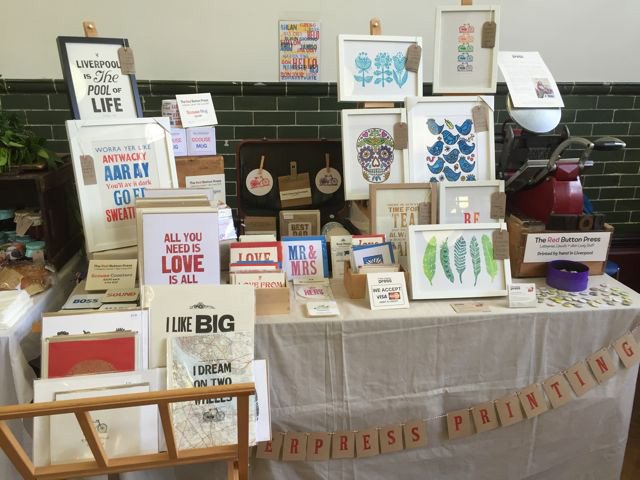 Liverpool Print Fair 2020
Spring 2020
Liverpool Print Fair is an affordable art fair gathering the very best artists and designers who print using traditional methods. The fair is a celebration of printmaking in a variety of forms including screen printing, linocut, etching, and woodcut.
Print Workshops: As well as plenty of beautiful affordable art, the Bluecoat will also be hosting a number of family friendly print activities and workshops for all ages.
One of the great things about Liverpool Print Fair is the diverse mix of artists, designers, illustrators and printmakers that the event showcases. There's something to suit everyone's budget and tastes and you're bound to find a new favourite print among the stalls.
WORKSHOPS
We will be running live printing demonstrations for all ages which are free for everyone to take part in. Come along and have a go at making your very own Christmas cards and prints!
www.liverpoolprintfair.co.uk
Castle Park Arts Centre New Exhibitions
📅
28 June - 4 August 2019
Castle Park Arts Centre, Frodsham WA6 6SE
Castle Park Arts Centre is showing new exhibitions from 26 June until 4 August 2019. The Meet the Artists evening will be held on 28 June 2019 between 7 and 9 pm. Refreshments available, everyone welcome.
Family visions is a joint exhibition featuring the work of five artists from two generations of the same Welsh family. The artists, Gareth, Diana, Glyn, Simon & Jani use different media including sculpture, painting, drawing and photography to express ideas, emotions and observations.
The subject matter ranges from landscape & buildings to people & conceptual. The work they have been producing over the last few years is both powerful and thought provoking, highlighting the way in which people from the same family see their personal world differently.
In Gallery 3 we have Philip Westcott's People and Places. Philip Westcott has painted cityscapes for over 30 years. He started by painting individuals but then moved on to paint a wider view of the scene. In these compositions he captures indiscriminate figures by painting them loosely so that they appear to merge into the scene and often highlights them with fleeting glimpses of colour, to give the impression of a fast-paced lifestyle. Concentrating on the busy shopping centres depicts the hustle and bustle of modern life.
His other interest is the Northwest Landscape. Here his paintings focus on the hidden view rather than large panoramas.
In our café area we have the winners of this year's inter-school art competition, the three Church of England Primary schools of Norley, Crowton Christ Church and Kingsley St. John's are coming together once again to showcase their pupils careful thought and artistic flair.
Castle Park Arts Centre New Exhibitions
📅
7 August - 15 September 2019
Castle Park Arts Centre, Frodsham WA6 6SE
Castle Park Arts Centre has three new exhibitions showing from 7 August until 15 September 2019. The Meet the Artists open evening will be held on 9 August 7 – 9 pm. Everyone welcome.
ReMix Creatives' annual group exhibition, in Gallery 1 and the Link Gallery, explores 'Collaboration'; the artists having collaborated with each other and with others as well as investigating instances of collaboration in the wider world.
Gallery 2 is showing The 'Faceable' Gallery. (And 'Everything Else' Gallery) by Willy K Wood. A collection of pictures for easy viewing depicting circumstances experienced daily in light humoured ways and maybe even experienced by the observer?
The additional 'Everything Else' Gallery is an exploration of the mind. A useful way of downloading continuous ideas for pictures.
In Gallery 3 'Renewal' is an exhibition by Natural Progression Textile Group. The inspiration for 'Renewal' is based around regeneration, recycling and regrowth. We will individually work on very diverse aspects of this theme to form a cohesive and interesting exhibition.
New Art Exhibitions at Castle Park Arts Centre
📅
18 September - 31 October 2019
Castle Park Arts Centre, Frodsham WA6 6SE
Castle Park Arts Centre has exciting new exhibitions showing from 18 September until 30 October 2019. Come and meet the artists at our Open Evening on Friday 20 September 7 – 9 pm. Everyone welcome.
In Gallery 1 - Joanna Powell is an artist specializing in paintings of folk musicians. She has become increasingly interested in collaborations between art and music - sketching musicians during a performance and letting the music they play influence the outcome of the painting.
George Davies is in Gallery 2 with an exhibition called Country to Coast. This 14 year old artist is inspired by the British Landscape and places he has visited.
An Exhibition of paintings, textiles, and mixed-media work by local artists Sue Marsden and Sophie Parr inspired by the landscape is showing in Gallery 3.
And in the Link Gallery we have Recollections : Home and Away from Liz Fielding who is primarily a plein air watercolourist and occasional printmaker and has kept holiday diaries for over 20 years. Many of her pictures were painted while travelling
Castle Park Arts Centre New Exhibitions
📅
8 January - 16 February 2020
Castle Park Arts Centre, Frodsham WA6 6SE
Castle Park Arts Centre has new exhibitions is January 2020.
In Gallery 1 we have Art from the Square (artfromthesquare.co.uk) who are a group of local (Merseyside) artists, many of them ex-professionals, who regularly exhibit together.
In Gallery 2 there is A Meeting of Minds by Sue Hancel and Barbara Lewis, two friends who met at the life drawing sessions at Castle Park Arts Centre and whose friendship has developed. Over the past few years they have shared many different experiences together.
Imaginations in Wood produced by Woodart workshops is a talented collective of gifted carvers, turners and wood artists who enjoy working with wood who get together to share experiences and skills and produce exquisite wood art. They will be found in Gallery 3.
Brush Strokes Art Club Silver Anniversary Exhibition. - Born in Castle Park Arts Centre in 1994 and still going strong ... are displayed in the Link Gallery
Open evening to meet the artists is on 10 January 2019 7 - 9 pm