Association of Animal Artists
30 March - 13 May 2018
Castle Park Arts Centre, Frodsham WA6 6SE
The Association of Animal Artists returns for its much celebrated Annual Exhibition at Castle Park Arts Centre with animal art to inspire, amaze and fire the imagination! The exhibition runs from 30 March until 13 May 2018. There will be an Open evening held on Friday 6 April, 7 - 9 pm, everyone welcome.
With award winning members from around the world exhibiting with professionals and amateurs from all over the UK and Europe, you will not see another exhibition as diverse and inclusive in the UK.
Attracting visitors every year this is a must see event for any animal lover, depicting all realms of animal life: bird, fish, reptile, insects, domestic, wild, cloven hoofed or clawed!
All artwork is for sale and a percentage of all sales will be donated to our charity partner for 2018, the British Hedgehog Preservation Society.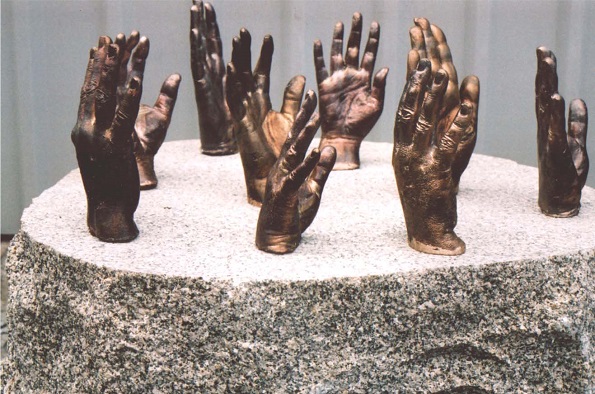 Agreement: A People's Process - Art exhibition
📅
Wednesday 4 - Saturday 21 April 2018
Victoria Gallery & Museum, Ashton Street, L69 3DR
The Institute of Irish Studies, University of Liverpool, is bringing the iconic Hands of History installation across the Irish Sea for the first time, as part of a major exhibition to mark 20 years since the signing of the Belfast/Good Friday Agreement.
Showing in the University's Victoria Gallery and Museum Agreement: A People's Process combines photography, painting, sculpture, installations, animation and textiles. It explores conflict and people's capacity to build values of parity of esteem and mutual respect. In recognising both victimhood and peace-building, it examines the Belfast/Good Friday Agreement, as well as violent conflict in Columbia, Iraq and Argentina.
For more information about Agreement: A People's Process, please go to
liverpool.ac.uk
Castle Park Arts Centre new exhibitions
14 May - 24 June 2018
Castle Park Arts Centre, Frodsham WA6 6SE
The next exciting exhibitions at Castle Park Arts Centre will be held from 15 May until 24 June 2018. Come along to our 'meet the artists' open evening will be held on 18 May 7 – 9 pm, everyone is welcome.
In gallery 1 ' Force of Nature' is an art exhibition by Cheshire artist, Sarah Morley. Sarah's work is inspired by nature, it's timeless beauty and drama. Sarah paints in an expressive semi abstract style. Colour, texture and energy are all equally important. In this exhibition Sarah presents a large number of her oil and mixed media seascapes, landscapes and abstract water paintings.
Meriem El Lami has an exhibition called 'Journal of a Diaspora' in gallery 2 - a visual documentation of existing in Diaspora and its daily challenges.
In gallery 3 we are showing 'Drawn from the Weaver', a fascinating exhibition by Pamela Field, Pauline Leaver and Celia Rowlands. The exhibition is a visual exploration of the River Weaver from it's source to entry into the Manchester Ship Canal.
The Link gallery has an exhibition of posters showing the development of shops and services in the heart of Frodsham over more than 150 years. See how the histories of individual properties reflect changes in peoples' livelihoods and fluctuating economic prosperity following the arrival of the railway in 1850.
Castle Park Arts Centre new exhibitions
27 June - 5 August 2018
Castle Park Arts Centre, Frodsham WA6 6SE
Castle Park Arts Centre has four new exhibitions showing from 27 June until 5 August 2018. Come and meet the artists on Friday 29 June 2018, enjoy a drink and visit all the exhibitions between 7 – 9 pm.
The exhibition in gallery 1 is called 'Creative Moments' . This stunning exhibition from duo Jenny Holland and Ronnie Drillsma demonstrates their skills in handling oil and acrylic. Both artists have spent many years exhibiting, demonstrating and teaching and come together now for their first joint exhibition. The colourful, vibrant display of local scenes and beyond, showcases the complimentary styles of these two talented artists. See below
In gallery 2 we have the Wednesday Art Group. This is the first exhibition at Castle Park for the Wednesday Art Group (WAG). Meeting each week for over twenty five years, they come together to pursue their love of painting, especially in watercolour. "Memories" is a record of things that they have experienced that occupy a special place in their hearts.
Tenplus Textiles will be in Gallery 3. Ten Plus Textiles was formed in 1991 by ten textile artists based in the North West who wanted to work together and promote an appreciation of embroidery in all its forms. Since then the group has grown in number and there are currently sixteen members. Their textiles include hand and machine embroidery, patchwork, quilting, beadwork, weaving, collage and mixed media.
Chris Newsham will be in the Link Gallery with an exhibition called 'Worms Head' – recollections of a landscape - taking the geomorphology of the Gower peninsula as a starting point to explore the notion of recollection and its fractured hold on memory.
www.castleparkarts.co.uk
Castle Park Arts Centre New Exhibitions
📅
7 August - 16 September 2018
Castle Park Arts Centre, Frodsham WA6 6SE
From the 7 August 2018 until 16 September 2018 we have exciting new exhibitions on at Castle Park Arts Centre. Our Open Night will be on 10 August, 7 – 9 pm, everyone welcome to come and meet the artists and enjoy a drink in relaxing surroundings.
In Gallery 1 and the Link gallery we have the ReMix Creatives group. This exhibition is the culmination of a year of workshops and exploration of the theme 'Changes'; each piece being one artist's response to the theme in their chosen medium.
In Gallery 2 Roisin Maddison and Angus Child's exhibition - In Oceanum takes you on a tour of life around the ocean, from bright, beautiful fish, invertebrates and mammals to the colonies of birds living on the edge of the sea, up on the harsh cliff that make up the fringe of ocean life. Not many people know about the richness of life in and around our oceans, and we aim to use our photography to share the amazing wealth of life that can be seen around the shores.
In Gallery 3 the rolling landscapes of Cheshire, North Wales and Cumbria are depicted in kiln formed glass art by Jennifer Barker
www.castleparkarts.co.uk
Liverpool Academy of Arts at The Corke Gallery
📅
Saturday 11 - Thursday 23 August 2018
Corke Gallery, 296 Aigburth Rd, Liverpool L17 9PW
Artists are showing their work ranging from sculpture to photography, painting and installation.
Open 1 to 5pm, Monday to Saturday.
Free entry.