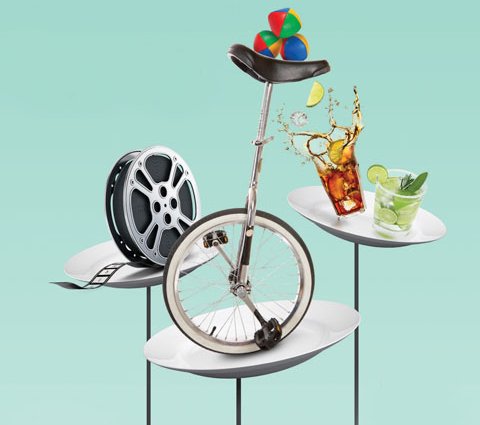 Summer at Liverpool ONE
📅
20 July - 31 August 2018
Get ready to be entertained this summer with plenty of fun for the whole family at Liverpool ONE.
With daily circus skills workshops, live music and plenty of places to eat and shop, there simply has never been a better time to visit.
And summer officially arrives at the retail and leisure destination on July 20 with a day of breath-taking performances, which kicks off daily entertainment for a whole six weeks!
From 12pm, join world class circus acts as they bring all the excitement and spectacle of the big top to the streets of Liverpool ONE. Performing for the first time outside of the world-famous Blackpool Tower.
This will be the first time ever that these international artists have performed outside of the circus ring. Expect the unexpected with jaw-dropping stunts and plenty of spellbinding moments. If you miss the action, there's another chance to catch it at 1pm (Sugar House Steps) and 2pm (outside Victoria's Secret on South John Street).
As the circus marks 250 years since its creation, Liverpool ONE will be joining in the celebrations. Throughout the summer, expect pop up performances with a difference, bringing the magic of the circus to surprise shoppers and keep visitors of all ages entertained.
Over the six-week summer break, join in with the fun at our special Circus Camp available every day. Look out for the special Circus tent at Liverpool ONE where you'll find free workshops for kids to try their hand at learning impressive tricks including tightrope walking, plate spinning, ribbon, juggling and trampolining. No need to book, just turn up on the day. Workshops begin on Monday 23 July and are available Monday to Wednesday 11am – 2pm and Thursday to Sunday 12pm – 4pm, until 2 September.
Also this summer, be entertained by the region's finest musical maestros as the much-loved piano festival, Tickle The Ivories returns. Visitors will be entertained as pianists deliver a whole host of musical genres from classical hits, popular show tunes and even dance rave anthems.
The festival is open to pianists of all ages and abilities so if you want to get involved, either pre-book your space at www.liverpool-one.com/tickle or simply pull up a stool and start playing a tune! Six pianos are available across Liverpool ONE giving the opportunity for everyone to play and to entertain.
Inspired by the England team, or have the Wimbledon stars motivated you to try something a bit more competitive this summer? Why not try a spot of table tennis? Take part in Ping! Free to use tables are located near John Lewis. Simply pick up your bat and ball from the nearby Utility Store and return them when you're done. Tables are out every day so there's never been a better time to play!
And when you're done shopping, juggling or enjoying a musical performance take advantage of one of the numerous spots at Liverpool ONE to enjoy the warmer weather. From Chavasse Park to the AstroTurf covered steps near John Lewis, there's plenty of places for your own summer picnic. Or leave the cooking to us and choose one of the many al fresco dining options across Liverpool ONE for a bite to eat in the sunshine.
Donna Howitt, marketing director at Liverpool ONE, said:
"Our summer programme is bursting at the seams this year with entertainment for all ages. We want to make this the best summer yet with plenty for people getting involved, trying new things and sharing their experiences with friends. From a day at the park, live music, a trip to the cinema or even a tightrope walking lesson, you'll be spoilt for choice. And that's even before the shopping begins!

"Our exciting city has so much to offer families looking for the perfect day out during the holidays. There's so many reasons to keep visiting again and again!"
The Circus Camp will run from July 23 until September 2. Tickle the Ivories starts on July 20 and continues until September 30.
For more information about what's on offer this summer at Liverpool ONE, visit www.liverpool-one.com/summer