The Capstone Theatre
Spring Season 2019
The Capstone is delighted to announce the launch of its spring 2019 season, which runs from late January to May 2019, and promises an eclectic selection of artistic treats with contemporary music, jazz, world music, dance and dramatic performances, and film screenings.
The season boasts two festivals, including the seventh incarnation of Liverpool International Jazz Festival (Thu 21 – Sun 24 Feb), and international combined arts festival The Angel Field Festival (Fri 22 – Sat 30 Mar), a brand-new addition to Liverpool's cultural calendar. In addition, there is a scattering of performances from Capstone regulars Milapfest, Liverpool Mozart Orchestra, Allerton Brass and others.
•
Spring Brochure
pdf
•
thecapstonetheatre.com
The Capstone Theatre Shaw Street, Liverpool L6 1HP
See What's On at Liverpool Philharmonic Hall
Hope Street, Liverpool L1 9BP
♫ Tickets from
liverpoolphil.com
♫
Map
Liverpool Philharmonic's What's On Guide, featuring contemporary and classical music, family events, films, comedy, talks, tours and more. ♫ View the
2019 What's On
Nicholson's Gin Festival
📅
19 August - 8 September 2019
The Philharmonic Dining Rooms
NICHOLSON'S HOSTS FOURTH ANNUAL GIN FESTIVAL
Nicholson's Pubs in Liverpool will be putting a beer-related spin on their fourth annual gin festival by sharing gin creations from some of the UK's leading breweries.
Running until 8 September at famous city centre watering hole The Philharmonic Dining Rooms, the Nicholson's Gin Festival will give beer drinkers the opportunity to try something a little different and sample special gin creations from breweries they know and love.
Expect to see the likes of Brewdog, Purity and Adnam's showcasing their unique and distinctive gins over the course of the festival. Of course, for gin enthusiasts there will also be a whole host of gins from distilleries worldwide including Gin Sul, which has only recently launched in the UK, and homegrown British drinks-maker Chapel Down.
Ross Timms, marketing manager at Nicholson's Pubs, said:
"The Nicholson's Gin Festival is about celebrating all things gin and giving our guests the opportunity to sample some of the best and most elusive gins around.
"We're incredibly excited to be partnering with some of the best brands in gin, including fantastic distilleries and breweries from across the globe.
"These special gins will be available for the duration of the Gin Festival, making it the perfect chance to explore the world of gin.
"But, of course, if we can't sway you there's need to worry as we'll have our usual cask ales, craft beers and ciders on tap throughout August!"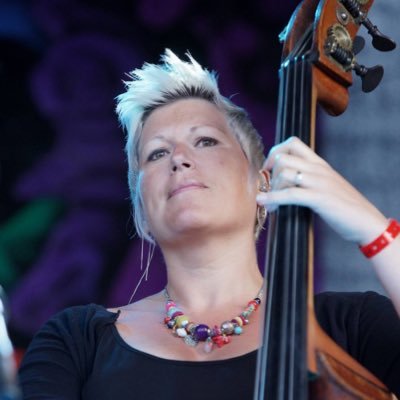 Miranda Sykes at Christ The King Social Club
📅
Thursday 5 September 2019
Christ The King Social Club, Score Lane, Liverpool
Miranda Sykes, the acclaimed singer and bassist with 'Show of Hands' returns in 2019 with a new album and UK tour. After a career spanning over 20 years, during which time she has played with many of the top musicians and singers within the folk world, she will be touring solo as she started out: One woman, one bass, and one guitar.
Building on the success of her Borrowed Places tour, Miranda Sykes is back with a completely new project: Her new album 'Behind The Wall'
Where Borrowed Places opened a window into the past, explaining where she had been, physically and spiritually, Behind The Wall is a Roller Coaster Ride exploring where we are going; Miranda, you, me, all of us. What does it mean to be human today, living in our communities and societies and where will our actions lead us?
Powerful and hard-hitting but also poignant and beautiful, this show is not to be missed.
Show 8pm Tickets £12 Tel 07762 360591
Oh Susanna - Canadian
📅
Friday 13 September 2019
Liverpool Philharmonic Hall, Hope Street,
Oh Susanna celebrates the 20th anniversary of her debut album Johnstown, with a re-mastered release available on cd, digitally and for the first time, on vinyl. Originally released in Spring 1999, Johnstown is considered a contemporary folk-noir masterpiece brimming with ghostly songs of melancholic beauty and menace. Oh Susanna's voice evokes a cinematic narration to simultaneously warm the heart and chill the blood.
Tickets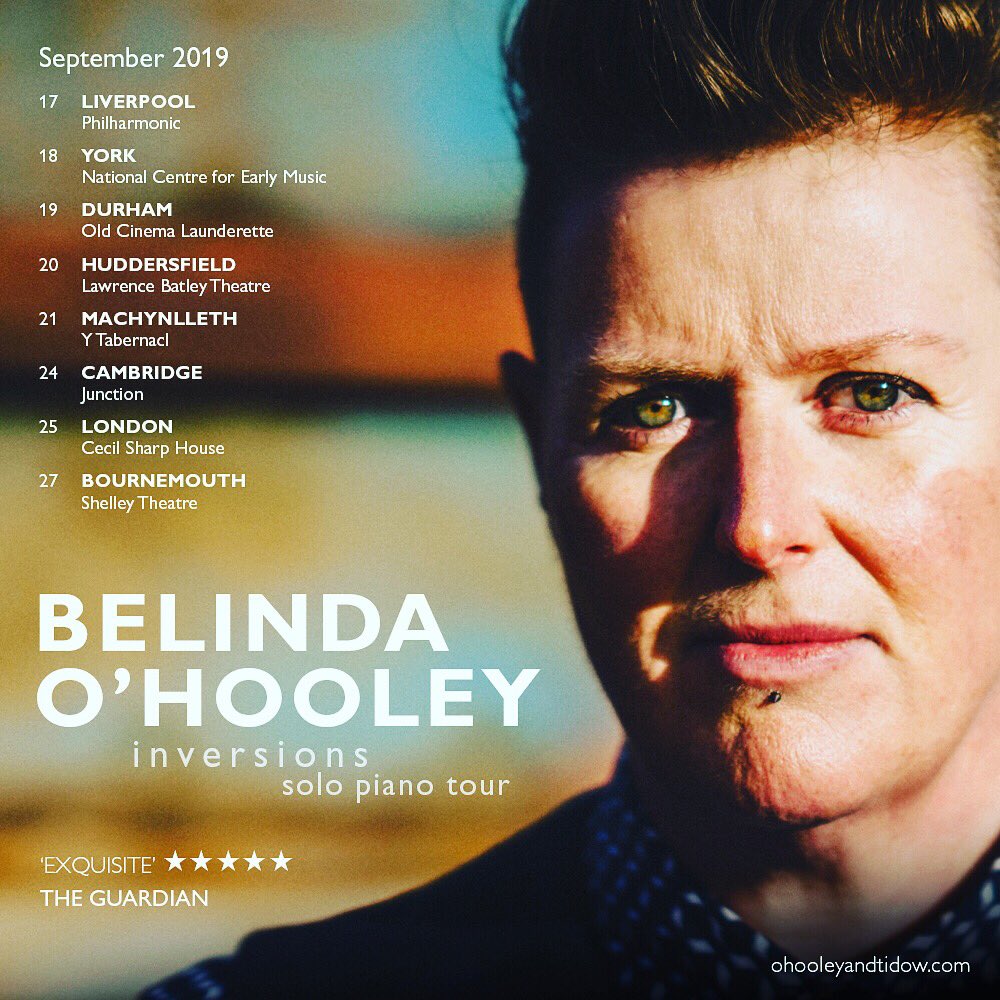 Belinda O'Hooley 'Inversions' Tour
📅
Tuesday 17 September 2019
Liverpool Philharmonic Music Room
Belinda O'Hooley is an exceptionally gifted pianist, singer, songwriter and composer and has become renowned for her highly individual, emotional, yet sensitive musicality. She is half of four time BBC Radio 2 Folk Award Best Duo nominees O'Hooley & Tidow alongside her wife Heidi Tidow; together described by The Guardian as 'exceptional songwriters.' Their song 'Gentleman Jack' features as the closing theme song for Sally Wainwright's latest BBC/HBO drama series Gentleman Jack.
The new album 'Inversions' showcases Belinda's abilities as a composer and pianist with many of the piano pieces inspired by the songs and tunes her father inherited from a long line of male musicians from Monalea up in the Ox Mountains in the West of rural Ireland. With the passing of her father in 2017, Belinda; the first woman to be handed the tradition, has found the freedom to express the music of her ancestors in her very own, unconventional way, evolving and migrating into something you could describe as an inversion: a reversal of the norm.
Inversions encapsulates the essence of an artist truly at one with her instrument. This show will be a stunning, quality performance, not to be missed.
8pm Tickets £17/£14 0151 709 3789
liverpoolphil.com
The Sixteen: The Choral Pilgrimage
📅
Friday 20 September 2019
Liverpool Metropolitan Cathedral
As part of Liverpool Early Music Festival.
In celebration of The Sixteen's 40th anniversary, their 2019 Choral Pilgrimage brings together choral masterpieces past and present, highlighting the group's musical journey over the last four decades. Their close relationship with Sir James MacMillan continues with a new commission O virgo prudentissima, contrasted with music by Fayrfax performed on their very first recording, alongside music by Wylkynson and Sheppard. These fine examples of English polyphony are juxtaposed with stunning music by Tavener and Eric Whitacre.
"Probably the world's greatest choir"
The Times
7.30pm - 9.15pm
Tickets: £16 from
Tickets
More info:
thetelling.co.uk
Workshop for Singers (Liverpool Early Music Fest)
📅
Saturday 21 September 2019
Nordic Church And Cultural Centre
As part of Liverpool Early Music Festival.
The Telling's mezzo-soprano Ariane Prüssner will walk participants through some beautiful and lively Spanish medieval songs from the Llibre Vermell collection of pilgrim song. No experience necessary. Plus, if they wish, participants will be able to join Ariane and The Telling in a musical number during Into The Melting Pot the following evening at Ullet Road Unitarian Church.
1.30pm-3.30pm
Tickets: £12 (£8 concs); under 12s: free from
Tickets
More info:
thetelling.co.uk
The Telling: Into the Melting Pot
📅
Sunday 22 September 2019
Unitarian Church, Ullet Road
As part of Liverpool Early Music Festival.
Spain. July 1492: the deadline for the expulsion of the Jews. At twilight, a Jewish woman lights the lamps and starts up her spinning wheel. It is her last night in Seville. Stories of integration, love, cultural heritage & radical intolerance experienced by a community of Jewish, Christian & Muslim women in Spain are told by actor Suzanne Ahmet (as Blanca, the Jewish woman) to a soundtrack of plaintive Sephardic songs & lively medieval Cantigas performed by The Telling.
Fancy joining in? Join mezzo-soprano Ariane's workshop in on 21 September, 1.30pm at Nordic Church and Cultural Centre for the chance to sing in a musical number.
"an expressive ardour to these performances that is hard to resist"
BBC Music Magazine
"more than mere monologue, interspersed with music. The sensitive handling by director Nicholas Renton enabled a series of touching interchanges between musicians and actress…"
Totnes Early Music Series
"such exquisite singing, story-telling, stagecraft brought tears to my eyes. I'm sure heaven must sound just like this"
Twitter feedback
7.30pm-9.30pm
Tickets: £16 (£12 concs) from
Tickets
More info: https://www.thetelling.co.uk/into-the-melting-pot
Willy Porter Plays The Casa Liverpool
📅
Thursday 10 October 2019
The Casa, Hope Street, Liverpool
American musician Willy Porter has been turning first time listeners into die-hard fans for more than two decades. Willy blurs the line between indie-folk and rock with his searing signature finger-picking guitar sound, absorbing lyrics, and playful, high-energy live performance style. He has shared world stages with music icons Jeff Beck, Tori Amos, and Paul Simon, carving out a successful solo career as an artist who makes music that resonates long after the last guitar chord fades. Equally accomplished as a guitarist, singer, and songwriter, his songs weave a universal perspective about the questions, struggles, and triumphs of human existence.
His live shows are guitar-driven events--equal parts grit, soul, and muscle--that are electrifying, dynamic, and wholly original in the way that Willy's voice blends and fuses with his galvanizing fret work. Whether in the studio or on stage, Willy Porter gifts listeners with an unforgettable ride, embodying the very best of what live music has to offer. www.willyporter.com
7.30-10.30pm £13.45
Tickets
The Music of Cream's 50th Anniversary UK Tour
📅
Saturday 19 October 2019
Liverpool Arts Club
Kofi Baker, Malcolm Bruce & Will Johns bring the legacy back to life, in an immersive multi-media experience show of electrifying live music, interplayed with archive footage of the original band, unseen interviews and personal anecdotes from the trio of growing up with the legends who were CREAM
Ginger Baker. Jack Bruce. Eric Clapton. Cream was a chemical explosion like no other, the blueprint for every supergroup to follow and the heavy blues precursor to Hendrix, Zeppelin and so much more. Fifty years since their earth-shaking debut album, the bloodlines of that hallowed trilogy come together to pay tribute to Cream's legendary four-album reign over the psychedelic frontier of the late 1960s. Kofi Baker (son of Ginger) and Malcolm Bruce (son of Jack) unite with Will Johns (Eric's nephew by Marriage and son of Zeppelin/ Stones/ Hendrix engineer Andy) to unleash the sound that roused a generation. Feel the fire and the freedom of "Spoonful", "Strange Brew", "Sunshine of Your Love", "White Room", "Crossroads" and "Badge" —performed by the next generation of Cream, master musicians in their own right whose lives have been steeped in the Cream spirit and legacy.
The Music of Cream is a once-In-a-lifetime concert salute to the most innovative and explosive supergroup of all time, in the hands of those that knew them best. In a new multimedia experience, watch with awe as Kofi and Malcolm interplay live with their fathers on the big screen; as classic moments in rock history with Clapton are brought back to life by his nephew Will Johns. The band will share personal insights and stories, complete with rare, unseen family footage and photographs. This is a truly immersive experience for Cream lovers. Intimate & unique performed by close family members of the original band, who are born and bred into skilled musicianship.
From The Jam
📅
Wednesday 4 - Thursday 5 December 2019
The Cavern
The Jam are one of the most iconic bands in British history. Continuing to keep the legacy of this illustrious band alive is legendary former member Bruce Foxton as From The Jam. Since forming in 2007, From The Jam have been an unstoppable force, spreading their infectious, high-octave performances at over 1,000 headline shows in the UK alone as well as across the globe.
This autumn, From The Jam will be celebrating the 40th Anniversary of the Jam's 4th critically acclaimed album, 'Setting Sons.' Join Bruce Foxton and Russell Hastings as they transcend the decades with popular favourites such as 'The Eton Rifles,' and, 'Smithers-Jones.' This tour will include special guests The Vapors, who were the original support act on the 1979 Setting Sons tour. The Vapors are well known in their own right for their huge UK chart hits, 'Turning Japanese', 'News At Ten,' and 'Jimmie Jones.'
From The Jam is comprised of legendary former 'The Jam' bassist Bruce Foxton, vocalist & guitarist Russell Hastings, drummer Mike Randon, and Andy Fairclough on Hammond and piano.
Russell Hastings has been the only front man to work with both Rick Buckler and Bruce Foxton since The Jam disbanded and has been earning the respect of fans across the world with his passion, knowledge of the band's work and his stellar performances. He has also worked alongside renowned artists such as Paul Weller, Wilko Johnson and Steve Cropper.