Liverpool Art Fair 2017 will take place throughout
July and August
at Liverpool's Iconic Pier Head, as part of the Pier Head Village.
The team are delighted to announce that Liverpool Art Fair is back for a sixth year, bigger and better than ever before! In 2017, the event will be part of the Pier Head Village and take place in a purpose built art gallery on Liverpool Waterfront for ten weeks, giving talented local artists the opportunity the showcase their work to a huge audience of locals and tourists. (liverpoolartfair.com)
Liverpool Academy of Arts at Corke Gallery
Tuesday 8 - Thursday 24 August 2017
Corke Gallery, 296-8 Aigburth Rd L'Pool L17 9PW
Art exhibition, several artists showing a wide variety of styles of artwork.
Tuesday - Saturday, 12.00 - 17.00
www.corkeartgallery.co.uk
FREE ENTRY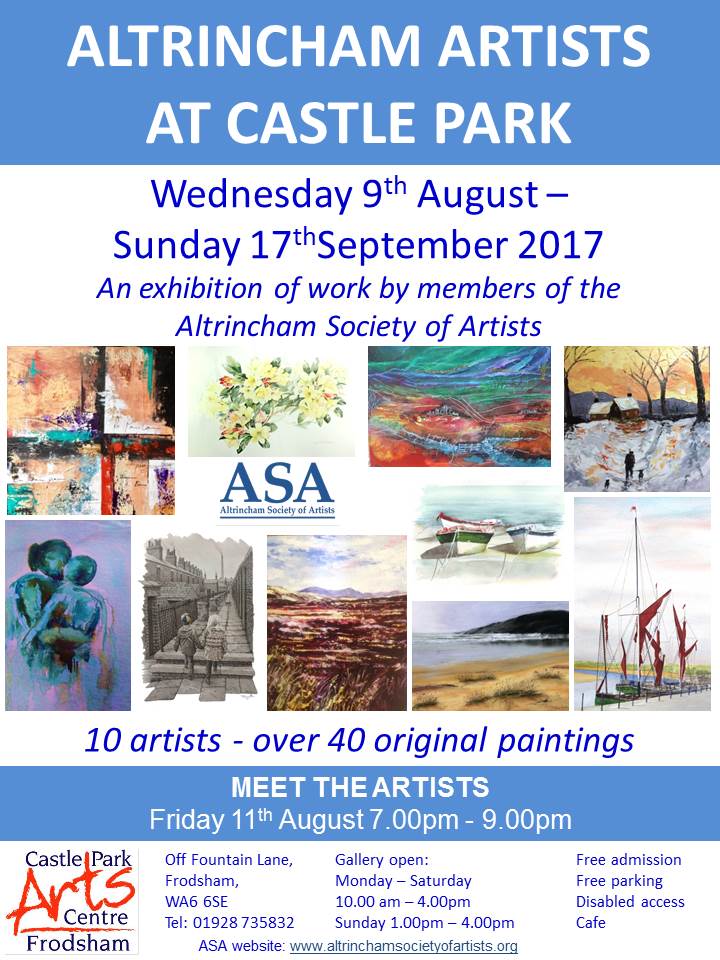 New Art Exhibitions at Castle Park Arts Centre
9 August - 18 September 2017
Castle Park Arts Centre, Frodsham WA6 6SE
This year's exhibition from Frodsham based TX Creative Textile Group is called Enclosed and will be found in Gallery 1 and the Link gallery. Last September the group visited Norton Priory walled garden for initial inspiration. However during the year research, sketching and experimentation have taken individuals into wide and diverse places resulting in this exhibition.
In Gallery 2 we have an artists co-operative which is based in one of the units at the Arts Centre. The exhibition is called Diversity from the Creative Space @ Unit 3. Their exhibition showcases the work they have produced since the unit opened as a studio space in May and demonstrates the diversity, individuality and range of art work produced by the artists who have enjoyed working together in this space.
Altrincham Society of Artists are exhibiting in Gallery 3. Ten artists will be demonstrating the diverse talents of the Society's members, displaying original work covering a wide range of topics in a variety of media.
Come and join us to meet the artists on 11 August 7 - 9 pm, all welcome. www.castleparkarts.co.uk
Artisans at the Pier Head - Heritage Open Days
Friday 8 - Sunday 10 September 2017
Pier Head Village - Liverpool Waterfront
A family friendly festival celebrating Heritage Open Days will take place at one of the most recognised skylines in the world, the Liverpool Waterfront.
Heritage Open Days come around only once a year & this is your opportunity to re - visit & reminisce.
Introduce the younger generation to the new contemporary Pier Head & feel proud of the positive changes which have embraced our city with its ever changing views & incredibly beautiful architecture ... growing old gracefully & cleverly combining the old & the new...
Join our three day festival
We begin on the eve of Friday 8th September - an evening for grown ups, complete with Street Foods, licensed bars, live music & mood lighting – this will be a dazzling experience indeed under the watchful eyes of the Liver Birds
9th & 10th September join in the festival vibe, pay a visit to our artisan marquee & treat yourself to gifts that make you smile, we are honouring some of the regions most eclectic collection of artists, makers & creatives, here our face painting artists & workshops are sure to delight all ages.
In addition Sunday will include a vintage bus service that has numerous "stop & pick up" points around the city.
Free Entry
Further updates can be found here :
www.facebook.com/ArtisansAtThePierHead
www.theartisannetwork.co.uk/