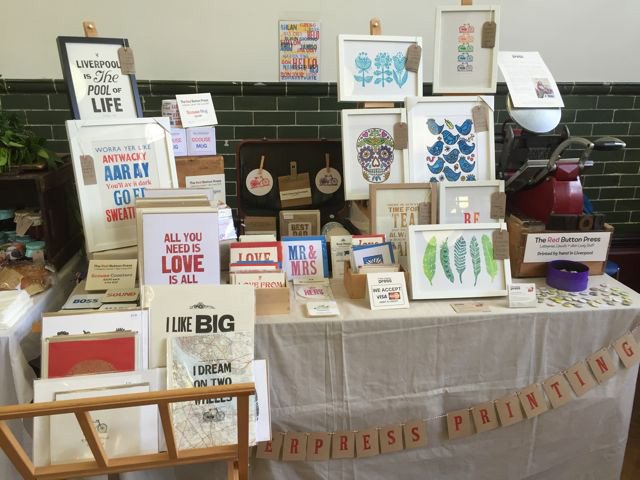 Liverpool Print Fair 2020
Spring 2020
Liverpool Print Fair is an affordable art fair gathering the very best artists and designers who print using traditional methods. The fair is a celebration of printmaking in a variety of forms including screen printing, linocut, etching, and woodcut.
Print Workshops: As well as plenty of beautiful affordable art, the Bluecoat will also be hosting a number of family friendly print activities and workshops for all ages.
One of the great things about Liverpool Print Fair is the diverse mix of artists, designers, illustrators and printmakers that the event showcases. There's something to suit everyone's budget and tastes and you're bound to find a new favourite print among the stalls.
WORKSHOPS
We will be running live printing demonstrations for all ages which are free for everyone to take part in. Come along and have a go at making your very own Christmas cards and prints!
www.liverpoolprintfair.co.uk
Castle Park Arts Centre New Exhibitions
📅
28 June - 4 August 2019
Castle Park Arts Centre, Frodsham WA6 6SE
Castle Park Arts Centre is showing new exhibitions from 26 June until 4 August 2019. The Meet the Artists evening will be held on 28 June 2019 between 7 and 9 pm. Refreshments available, everyone welcome.
Family visions is a joint exhibition featuring the work of five artists from two generations of the same Welsh family. The artists, Gareth, Diana, Glyn, Simon & Jani use different media including sculpture, painting, drawing and photography to express ideas, emotions and observations.
The subject matter ranges from landscape & buildings to people & conceptual. The work they have been producing over the last few years is both powerful and thought provoking, highlighting the way in which people from the same family see their personal world differently.
In Gallery 3 we have Philip Westcott's People and Places. Philip Westcott has painted cityscapes for over 30 years. He started by painting individuals but then moved on to paint a wider view of the scene. In these compositions he captures indiscriminate figures by painting them loosely so that they appear to merge into the scene and often highlights them with fleeting glimpses of colour, to give the impression of a fast-paced lifestyle. Concentrating on the busy shopping centres depicts the hustle and bustle of modern life.
His other interest is the Northwest Landscape. Here his paintings focus on the hidden view rather than large panoramas.
In our café area we have the winners of this year's inter-school art competition, the three Church of England Primary schools of Norley, Crowton Christ Church and Kingsley St. John's are coming together once again to showcase their pupils careful thought and artistic flair.
New Art Exhibitions at Castle Park Arts Centre
19 February - 29 March 2020
Castle Park Arts Centre, Frodsham WA6 6SE
Castle Park Arts Centre has exciting new exhibitions showing from 19 February until 29 March 2020. Come and meet the artists at our Open Evening on 21 February 2020 7 – 9 pm. Everyone welcome.
There is a unique opportunity to see the cream of Peak District artistic talent when 24 members of The Peak District Artisans hold their first exhibition in gallery 1 and the Link Gallery at Castle Park Arts Centre
Alison Taylor is exhibiting in gallery 2 - When I am an old woman, I shall wear paint purple. Breaking the rules, pushing the boundaries; a rewrite for the 21st Century
In Gallery 3 we have a joint exhibition between established painter Midge Mullally & newcomer Craig Louden, a metal artist using the inside of machinery to create something completely different.
www.castleparkarts.co.uk
AND FESTIVAL 2020
Thursday 14 - Sunday 17 May 2020
Manchester Ship Canal & River Mersey
AND Festival, the UK's only roaming digital festival, takes to the water in 2020 for the 9th edition, resurfacing along the global trade gateway of the Manchester Ship Canal and River Mersey.
Navigating the flows from oil refineries, recycling plants, wind farms and agriculture; AND will explore how the 125-year old engineering wonder of the ship canal chronicles the North's past, present and future industries.
Transforming waterways, ports and docklands, AND Festival will emerge at unexpected locations across Merseyside and Cheshire (UK) with 4 days of site-specific installations and events - from immersive installations, augmented reality seascapes, virtual environments, floating experiments to immersive field trips.
AND invites you to abandon your normal devices and submerge yourself in this industrial waterscape.
Sign up to AND e-news
newsletter
for programme announcements.
#AND20
AND Festival 2020 is supported using public funding by Arts Council England with additional support from British Council and The Space, and programme partners Canal & River Trust, Culture Liverpool, Culture Warrington, The Daniel Adamson, University of Salford Art Collection, Somerset House Studios and Wirral Council.