New Art Exhibitions at Castle Park Arts Centre
📅
9 January - 17 February 2019
Castle Park Arts Centre, Frodsham WA6 6SE
From 9 January until 17 February 2019, Castle Parks Arts Centre presents 4 new exhibitions. Our Open Evening is on Friday 11 January 2019, 7-9 pm, come along and meet the artists, everyone welcome.
In Gallery 1 we have Art from the Square, a group of local (Merseyside) artists, many of them ex-professionals, who regularly exhibit together. This collection of recent works is an eclectic mix of subjects, styles and methods.
Sue Hancell can be found in Gallery 2 - Landscapes and Light. The fabulous trickery that light plays on our wonderful British landscape. Dawn, dusk and the fleeting shadows that create lattices of shapes around us, often take her breath away.
In Gallery 3 is Eddie Bishop's exhibition - Any Old Iron . Eddie works with steel using a force of individuality to create a rough elegance within his work. He explores the possibilities of manipulating and transforming the steel to hopefully make something aesthetically pleasing .
In the Link Gallery is Ginger Jar Arts featuring the work of two Warrington artists, Helen Culleton and Sue Ellis. Working in a variety of medium and with differing styles and approaches, they share a love of landscape, nature and wildlife which is very much reflected in their work. This exhibition is entitled, 'Scenes from a country lane' and features a range of media and styles from acrylic, textiles, felting and stencilling.
www.castleparkarts.co.uk
Castle Park Arts Centre New Exhibitions
📅
20 February - 31 March 2019
Castle Park Arts Centre, Frodsham WA6 6SE
Here at Castle Park Arts Centre we have four new exhibitions beginning on 20 February 2019 until 31 March 2019.
In Gallery 1 we have Paul Brotherton with "Visual Conversations". Paintings by Paul investigate and celebrate both geometric and informal contemporary abstraction.
Lizzie Patel's work is displayed in Gallery 2 – " River Journey III" is a collection of postcard sized depictions using paint, textile and stitch to share what she sees on her journey along the River Weaver discovering many different aspects of life along our rivers.
In Gallery 3 we have Gillian Robertson with an exhibition titled "Earth, Wind and Sky" The work includes several large scale paintings and explores our life surrounded by the elements, with a focus on locations on hillsides and watersides in the northwest and beyond.
In the Link Gallery Chris Newsham and Jo Pidgeon have a joint exhibition –" taking the thick off it phr. [mid 20C+] (Manc.)" to ameliorate a problem or chore [ eg. domestic; to partial dry washing . A mixture of painting and textiles.
Open evening to meet the artists is on 22 February 2019 7 - 9 pm. Everyone welcome.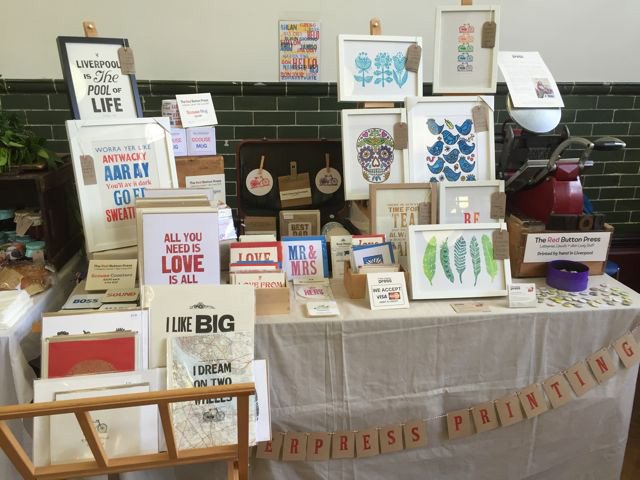 Liverpool Print Fair 2019
27 April 2019
Liverpool Print Fair is an affordable art fair gathering the very best artists and designers who print using traditional methods. The fair is a celebration of printmaking in a variety of forms including screen printing, linocut, etching, and woodcut.
Print Workshops: As well as plenty of beautiful affordable art, the Bluecoat will also be hosting a number of family friendly print activities and workshops for all ages.
One of the great things about Liverpool Print Fair is the diverse mix of artists, designers, illustrators and printmakers that the event showcases. There's something to suit everyone's budget and tastes and you're bound to find a new favourite print among the stalls.
STALLHOLDERS
Adam Nevols
Angus Vasili
Baltic Printmakers
Birley Editions
Blue Room
Bluecoat Print Studio
Doodleduck Designs
Fennell M Design
Georgie Gozem
Hannah Sulek
Heather Prescott
Kate Brooks
Lucy Freeman Designs
Moss-White Kreativ
Mockup Goods Co.
North or Nowt
Olivia Design
Rune-Creative
Samantha Groom. Printmaker.
Something Pen and Inks
THAT GIRL
The Cledford
The Red Button Press
The Moon Underground
The Lost Fox
Things by us
TillyPrints
Toucan Tango
WORKSHOPS
We will be running live printing demonstrations for all ages which are free for everyone to take part in. Come along and have a go at making your very own Christmas cards and prints!
Free entry.
Kid & dog friendly.
• www.liverpoolprintfair.co.uk