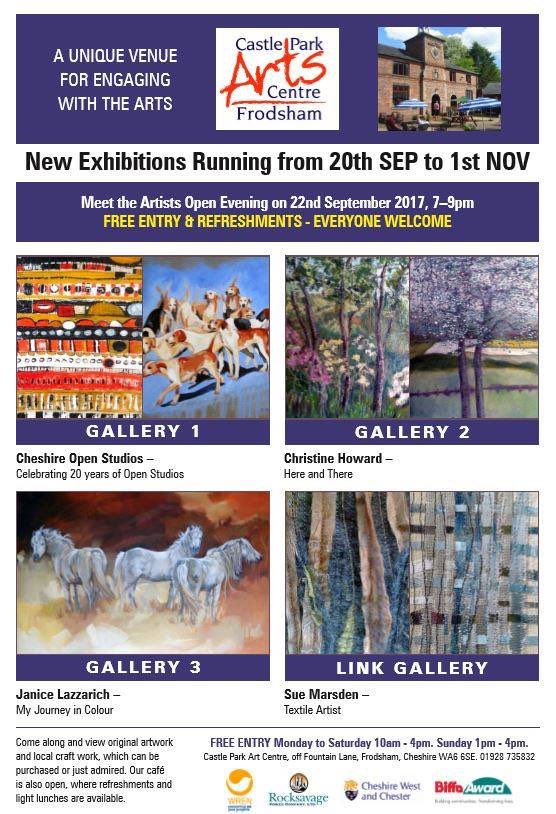 Castle Park Arts Centre New Exhibitions
19 September - 3 November 2017
Castle Park Arts Centre, Frodsham WA6 6SE
Cheshire Artists celebrate 20 years of Open Studios with an exhibition in gallery one at Castle Park Arts Centre, Frodsham from 19 September until 3 November 2017.
Artists in Cheshire open their doors to the public from September 23rd. This is a brilliant opportunity to meet artists in an informal environment, see how they work and discuss their methods and techniques. Be inspired by their working studios and don't miss this great opportunity to purchase or commission artworks directly from the artist.
Open Studios Weekends commence Sept 23rd 2017. To find out more information and to visit artists please visit their website at: cheshireopenstudios.org.uk.
Christine Howard has an exhibition called 'Here and There ' in Gallery 2. Christine is a landscape artist and hopes that you will enjoy and be inspired by what you see. She aims to capture the environmental beauty of the world that we live in – cities, countryside, woodlands, sea shores - and to record and interpret that beauty for the visual pleasure of others as well as for herself.
In Gallery 3 Janice Lazzerich is showing 'My Journey in Colour'. Her journey as an artist /painter started with crayons in childhood and took her into advertising as a Graphic Designer, and then on to Fine Art. Her exhibition takes you on a journey through her favourite subjects - so she has painted portraits of amazing women, and the timeless portrayal of the female figure. She has a great affection for birds, horses and wildlife and loves the simple "Still Life" - so has included them all in her exhibition.
Sue Marsden is exhibiting - 'Journeys through landscapes & books' in our Link Gallery. As an artist working in mixed media she is most interested in texture, surface, colour and mark-making. She uses a wide variety of materials. For this exhibition she has used a range of techniques, including felt making, weaving, painting, stitching and collaging; and likes to experiment with arrangements of pattern, colour, texture, line and shape.
Everyone is welcome to attend our Open Evening on 22 September 2017 7 – 9 pm, to meet the artists and enjoy a drink while enjoying all the exhibitions.

VG&M Comic Art Festival 2017
Friday 20 & Saturday 21 October 2017
Victoria Gallery & Museum
The VG&M will host a Comic Art Festival in association with our 'Beyond Dredd and Watchmen: The Art of John Higgins' exhibition.
Booking is required for some of the events listed below but we will also be offering Superhero Sandwiches and Supervillain Pizzas in the Waterhouse Cafe, Cosplaying Judges on patrol throughout the building and the opportunity to take a selfie with Judge Dredd...if you dare! More info:
liverpool.ac.uk
October Handmade Arts & Crafts Market @TheAdelphi
Saturday 28 October 2017
The Adelphi, Ranelagh Place, Liverpool. L3 5UL
We have a fantabulous mix of hand picked local Merseyside stalls of handmade arts and crafts to tempt you, especially if you are looking for something made with LOVE.
The handmade arts and crafts on offer includes:
Semi precious gemstone, freshwater pearl and/or sterling silver jewellery,
Artwork, Photographs and Cards,
Crocheted and knitted fashions,
Upcyled and recycled gifts,
Unique home furnishings and much more....
All made by local #Merseyside #Artists & #Crafters
We also have our delightfully insightful resident Psychic/Tarot card reader, too!
But you will have to come on down to see what delectable little gems we have discovered for you.
Our vision is to provide visitors the opportunity to meet, talk and buy some wonderful on-off #original #arts and #crafts, #handcrafted by our talented local Merseyside stallholders, with love and passion!
And on top of all that entry is FREE!!!
32nd Open Exhibition at Castle Park Arts Centre
10 November - 23 December 2017
Castle Park Arts Centre, Frodsham WA6 6SE
This year's Open Art Exhibition at Castle Park Arts Centre in Frodsham will once again display an exciting range of artwork entered by amateur and professional artists off all ages from across the region.
A variety of 2D and 3D artwork in different mediums will be on display , all of which will be for sale. All the work is original or limited prints, ideal for gifts at Christmas. The exhibition is free to enter so why not come along and enjoy the artwork in this unique and historic settings.
Light lunches served in our friendly cafe, disable facilities and free car parking.
10 November 2017 until 3 January 2017. Closed 24.12.16 – 3.1.17 over Christmas holidays.
www.castleparkarts.co.uk
Open evening 10 November 7-9 pm. Free entry, music and refreshments.
Oxton Art Fair
Saturday 25 & Sunday 26 November 2017
Williamson Art Gallery, Oxton, CH43 4UE
Now in its 14th year, the Oxton Art Fair will return to the Williamson Art Gallery on 25 November 2017 for its biggest event yet.
This year, 24 professional and semi-professional artists will showcase their work across four rooms of the Williamson Art Gallery in Oxton, Wirral.
Visitors can expect to see beautifully crafted handmade artworks such as pottery, jewellery and textiles, as well as photography, printmaking and everything in between.
Viewed as Wirral's must-visit pre-Christmas event, it gives both gift buyers and browsers a chance to chat to the artists about their work and if they choose, buy a truly individual piece.
There will be children's activities on throughout the weekend and refreshments for sale in the new Williamson café.
10am - 5pm Saturday 25 Nov
10am - 4pm Sunday 26 Nov
www.oxtonartfair.co.uk