Memories of August 1914
23 - 27 July 2014
A new story set on the eve of The Great War by Royal-de-Luxe.
Part of the UK's commemorations of the first world war.
The giants which captured the imagination of hundreds of thousands of spectators, are set to return to Liverpool as part of this year's World War I commemorations. A 5 day spectacle, 'Memories of August 1914', marking the 100th anniversary of the outbreak of the war.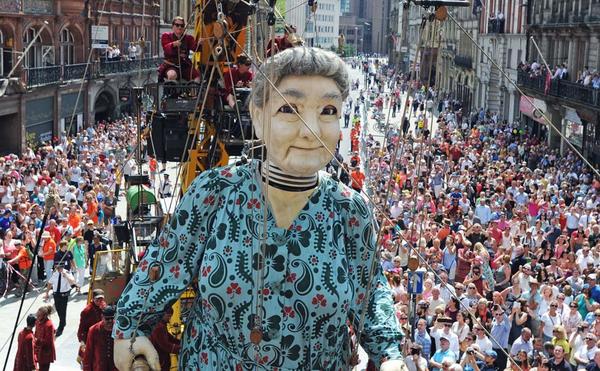 ---
Giant Spectacular
20-22 April 2012
Liverpool
The Sea Odyssey is a free event, which will see a Little Girl Giant take to the city streets in a giant spectacular show.
The Giant Girl and Xolo the Giant Dog
giantspectacular.com
---
(above) The poster designed by Stephan Muntaner, shown around Liverpool.
La Machine, Les Mecaniques Savants
5-7 September 2008
Reports of a Giant Spider climbing a building next to Lime Street Station!
One of the highlights of Liverpool 08 will take the city by storm, a truly unforgettable show that will make you see Liverpool in a whole new light! Liverpool Culture Company have commissioned Artichoke to produce a spectacular three-day event from French artist/engineer Francois Delaroziere and his company La Machine, one of the main highlights of Liverpool's European Capital of Culture year. At its heart will be a giant creature - fifty feet high and thirty tons in weight - that will invade the streets and public places of Liverpool. An unmissable piece of free theatre will unfold against the landmarks of this great city, stopping the traffic and captivating everyone who sees it.
(above) Photos of the giant spider (La Princess)
---
© All Rights Reserved G Popplestone.
The Sultan's Elephant
In 2006 the amazing mechanical elephant -
The Sultan's Elephant
(above) stopped in its tracks and thousands of onlookers marvelled at the sight of a gigantic wooden elephant, and a little girl giant in a green dress. Now Artichoke is working with the engineering genius behind Royal de Luxe's giants, Francois Delaroziere, and his company La Machine, to create a
magical new show for Liverpool 2008
. The precise details are a secret, but what's certain is that it will be huge in scale and utterly unlike anything seen in Liverpool before, an unforgettable piece of live theatre, played out against the landmarks of a great city.