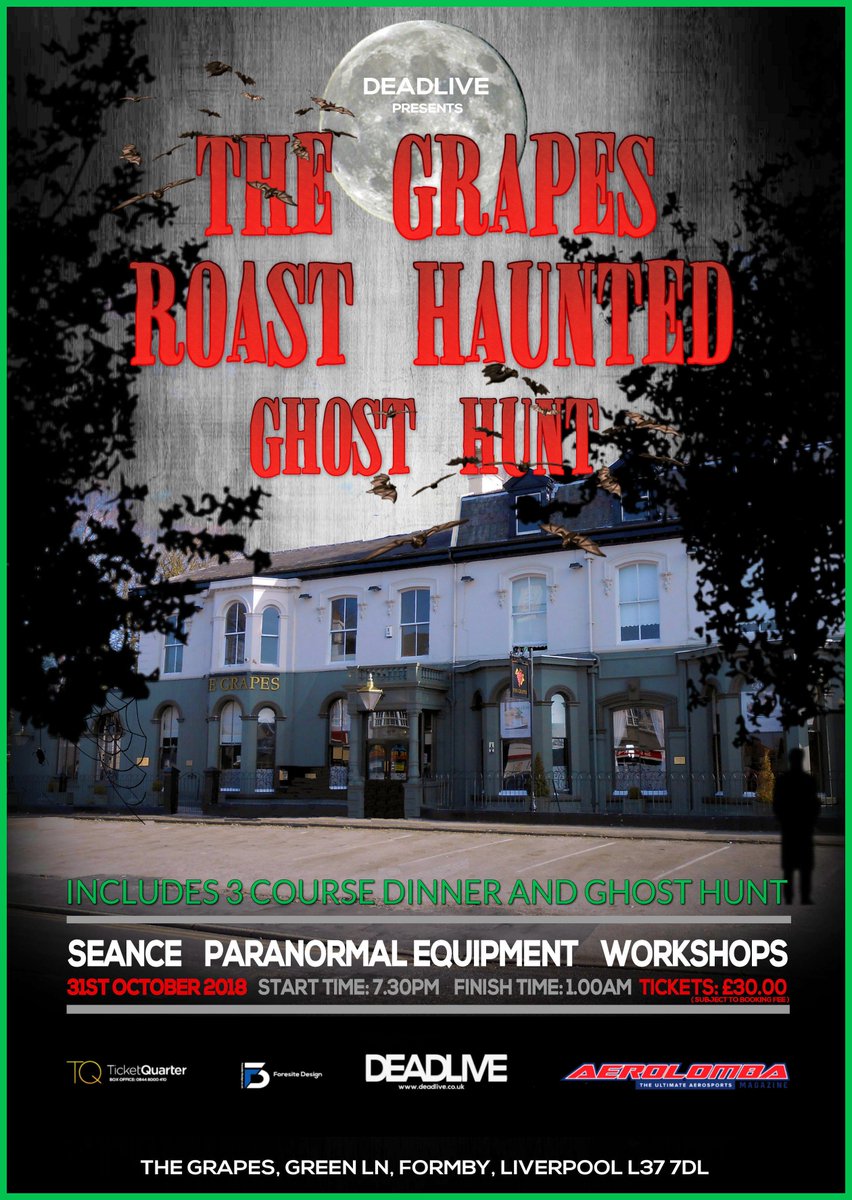 The Grapes Formby Ghost Hunt And Dinner
📅
31 October 2018
The Grapes Formby
Join us this Halloween at The Grapes Roast Haunted Ghost Hunt
31st October 2018 time: 7.30pm -1am
3 course Dinner and Halloween Ghost Hunt
Tickets: £30.00 (plus booking fee)
Thе Grapes in Formby built in 1880 was once a hotel, the original structure included assembly rooms and a bowling green and the adjacent buildings. Although most of the hotel rooms are empty you still feel your stepping into a time gone by with long corridors and titanic style staircase. Having such a long hіѕtоrу of guests and air men visiting the hotel, we are sure there will be some guests still checking in on this particularly night, with a story to tell.
Dеаdlіvе tаkіng уоu whеrе thе hаuntіng іѕ hарреnіng.
Please view thе menu online via the link below then call or e-mail DeadLive team with your order after purchasing your tickets.
Tel: 0795 035 0810 E-mail: info@deadlive.co.uk
The Grapes, Green Lane, Formby, Liverpool l37 7dl
🎃
Tickets
PLEASE NOTE THESE EVENTS ARE FOR ENTERTAINMENT PURPOSES ONLY.
---
Halloween Lantern Carnival
Sunday 29 October 2017
All the family are invited to join the fun as shadowy inhabitants - including illuminated giant beasts, skeletons and ghostly dancing apparitions, deathly street bands and other monstrosities - will roam the streets for one night only in a dazzling Halloween Lantern Carnival parade, the likes of which have never been seen before in the city centre.
---
Archived: Halloween Lantern Carnival: Nights are drawing in and the excitement is brewing as Liverpool gets ready for the spectacular annual Halloween Lantern Carnival, which will light up even the darkest corners of Sefton Park.
🎃 See also
Sefton Park Events
(above) Watch the brilliant video from last year's carnival.